Secrets of an effective senior resume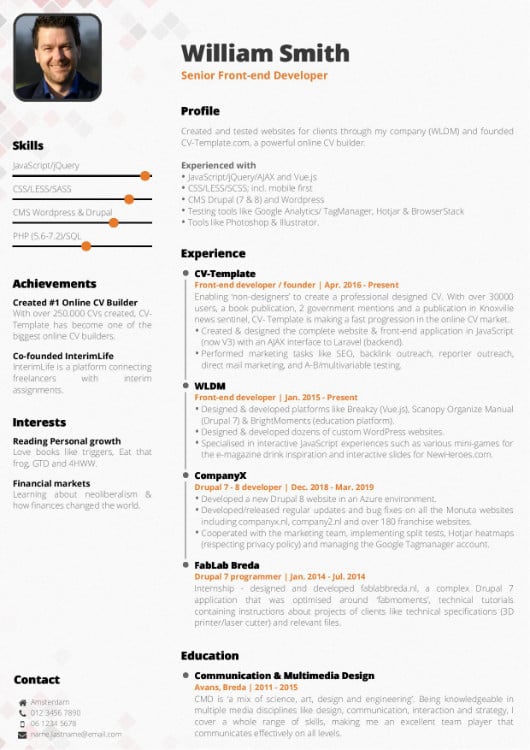 Are you a senior candidate…
… looking for some strategies that will make your resume stand out?
Well… you are in the right place.
The main problem seniors encounter is how to look 'up-to-date' after having been in the same job for ages…
Or how about outdated college-degrees?
In other words…
How can you show the hiring manager that you are still 'on top of your game' and have evolved with the industry?
Fortunately, some clever strategies will effectively disarm those objectives easily… making you an interesting candidate immediately!
This post covers 10 core principles that will make your senior resume highly effective.
Note; this website is also targeted towards the European/international CV market, which is very similar to a resume (in contrast to the American academic CV). Every CV mention on this site can be interpreted as resume.
1. Use a two-page resume length
For the Americans out here (welcome), it is a common myth that a resume has to be restricted to one page. For a seasoned professional, with lots of work experience and achievements, having 2 pages available to show your relevancy is simply a must.
Most hiring managers even expect it, which is logical; As a senior, you will have a bigger impact within the company. So HR is much more likely to invite you after providing that extra page of context about your relevancy.
There is only one 'but': if you extend your resume to two pages, you better make sure that everything on there is relevant and impressive (Which shouldn't be that hard with so much experience!).
2. Don't include everything
One of the mistakes I come across when reviewing senior resumes is that candidates tend to include their full career path in-depth. Even college jobs from the beginning of the career are sometimes still included.
While this is perfectly fine for a junior to show his 'willingness to work', including these irrelevant roles will only distract the hiring manager when reviewing your resume.
Instead, focus on the latest 10-15 years of your career and show how you kept developing yourself within this period. Highlight only relevant aspects while removing anything else and you will immediately become the specialist.
Would you rather hire a specialist when you are in need of heart surgery or a common doctor? I thought so!
Be the big fish in the small pond and focus only on the key aspects that are important to the job.
Remove everything else that is outside of this 'expert scope'. Don't confuse the hiring manager.
Don't make endless lists of skills - pick the 5 most important ones and stick with them.
A company is hiring because of a SPECIFIC problem - position yourself as the go-to specialist for that problem!
3. Shift your thinking: Your work history as an attachment
A concrete implementation of this "don't include everything" approach is to include only RELEVANT work experience in your resume.
As you probably have a long list of experience, there is no way that everything is equally important. That's why you have two choices:
Either to highlight only the relevant positions, call it 'Relevant work history' and include an extra page with all the work history as an attachment to provide context on your career path.
Include only the latest 15 years of your experience (or focus on the latest 3 roles in-depth) and include a 'career note' under the work experience section, describing in two sentences all the roles you did before this 15-year timeframe.
Both these methods have the same purpose; the front-page of your resume should be a spectacular first impression. There is no room for anything that could potentially harm that impression.
In other words… Don't make the hiring manager search your resume for relevant achievements, present them on a silver platter on the first page!
4. Show that you are 'on top of your game', after years in the same job
One of the problems that senior candidates face is to prove that they are still 'relevant' and 'current' in the field. Especially after having been in the same position for years and years. Showing that you kept growing within the company is essential!
Another 'problem'… As you stayed in the job for more than 6-8 years, you could probably come up with a dozen different bullet points for the work description. Which is great…
But you should always avoid large text blocks to keep your resume readable. Including 4 bullet points is the absolute max.
That is why it is clever to fix these two issues with one solution; introducing a small timeline within the work experience, showing your progression and relevant achievements at once.
For example
Company X | 2008 - 2019
'16 - '19 | Senior Delivery Manager
Outperformed the sales target with 23% by developing an effective strategy to target new markets (2019).
Delivered $3m in annual cost savings and improved delivery times by 22% (2018).
'13 - '15 | Project Manager
Delivered a critical database management infrastructure that ensured safety and manageability.
'08 - '12 | Business Analyst
Designed and analysed marketing research data in cooperation with the marketing team.
It's simple. Divide your experience in 2-3 different roles that showcase your progression and add 1-2 bullets with relevant achievements within that role.
It is fine to include more bullets in the most recent role, as you probably have a lot to say about yourself. Moreover, you might want to include a year to show the impressive results were delivered recently.
5. How to make sure your knowledge is still relevant
While your college dates are not that big of an issue (work experience is valued much, much more), it is essential to show that your knowledge of the industry is still up-to-date. That's why it could be a clever move to include 'Relevant courses' in your resume.
Try to highlight only relevant, but at least one course every 2 years, to show that improvement is important to you. The resumes sidebar on the second page is an ideal place to highlight these courses.
Are you missing some crucial knowledge? No problem - coursera.org is the place to go. This website has lots of courses (with certificates) from credible universities like Stanford and Johns Hopkins. Getting such a certificate from an established university will immediately remove that concern!
6. Make everything quantitative: achievements over responsibilities
As a senior, you have a relatively big impact on the company. That's why it is extra important to provide evidence of your suitability using quantifiable results. Think numbers and percentages - achievements over responsibilities.
The problem with responsibilities is that they say nothing. If you wrote that you were responsible for social media, you could have done nothing for 6 months and lost most of the followers.
Now, if you turn this 'meaningless statement' in a quantifiable achievement like "launched a new content strategy that increased social media reach from 317 to 4781 users in 3 months" it is immediately much more impressive!
Hire managers love such stories, and as it is specific it is perceived immediately as trustworthy. They won't remember the exact number/ percentage but will remember that they were happy with the result and that you are precise. Plus… numbers stand out, drawing the attention instantly!
Today, it is essential to stand out from the rest. That's where including a sidebar comes in. As the sidebar will draw the attention in the first seconds, you can use it cleverly to set the context of the rest of your resume… highlighting your most valuable achievements to the company!
The rest of your resume is to back those expectations up, providing context around the achievement.
Oh… and name it 'Relevant achievements' to emphasise that you have a lot more achievements to show! (Stick to the 4-5 most impressive achievements).
7. Executive summary
An effective executive summary is not about what you want but about what you have to offer. Together with the sidebar, it is the context-setting start of your resume; where do you want the hiring manager to focus on?
Start the summary with a 2-line sentence. This will make sure the summary will not end up like a large text-block, making it more appealing to start reading.
Never make the summary longer than 1/3 or 1/2 of the page.
Highlight your greatest relevant achievements to make a lasting first impression. Let them imagine what could happen when they hire you!
Be specific and focus solely on things that matter to them. Every sentence should have a purpose.
For example
Experienced Marketing Manager
Been into email marketing for over 10 years, resulting in a massive experience in psychological opt-ins and persuasive tactics.

Achievements include
Increased web-revenue by 18%, from 1.6M to 1.9M in 7 months by optimising the CTR in emails (2019)
.
Grown email list to over 100.000 participants by developing effective campaigns (2017).
Launched a new content strategy that grew social media reach from 30493 to 74781 users in 3 months (2016).
"He is a sharp marketer that analysed complex data quickly and simplifies it to an effective solution" - John Doe (let others promote you through quotes!)
8. Use Competitors as your unique selling point
At this point, you should know that it is extremely important to tailor your resume to every job position. One other basic tip is to copy the terminology from the job description to make your document scannable.
However… to differentiate yourself from everyone else, it pays to search for similar job descriptions. Seek specifically for skills or important requirements/ character traits that are NOT included in the job you are applying to.
As these requirements are probably useful in your desired position (and possibly simply forgotten in the process), you will stand out from the competition and make you a better match without being 'completely written towards the job description'. Be the safe choice for hiring managers!
9. Let every word earn its place
After you have written your senior resume, there is only one step left… You see… on average, 50-60% of the words on a resume doesn't have to be there.
Every word should add value. Every sentence should have a purpose. If not, immediately remove it as it will only have a negative impact; either you don't know how to write a resume or you don't have anything better to show!
Start sentences with action words to make them compact and impressive. Use an active voice at all times and remove empty statements like 'hard-working' (everyone is hard working and what does it even mean?), 'motivated', 'being flexible' or 'being a team player' (all way over-used).
Make sure to copy the exact terminology of the job description and include it at least 3 times within the document.
With over 100 candidates applying for every job offer, hiring managers simply don't have the time to read your resume anymore. If it does not impress within 20 seconds, you are gone. You need to impress at first glance!
10. Senior resume format
While content is way more important than the resume design, a well-structured document will increase the readability and thus your chances.
Some basic rules are:
Break huge text-blocks in multiple lines to improve the readability.
Never make the summary larger than 1/3 - 1/2 of the page.
Don't include more than 4 bullet points in a single job description.
Focus on 5 skills max (be the specialist instead of the generalist).
Make sure everything is consistent and logically structured; including fonts (family, colours and sizes), white spaces (enters/paragraphs) and data order (items within your work experience and education should be structured the same)
If you consider using a senior resume template, choose one that is clean and minimalistic - you want the hiring manager to focus on your experience and less on the design. The resume design should be supportive instead of an eye-catching distraction.
On the other hand, the benefit of using a resume builder is that it will save frustrations as it is built for the job, and it automatically creates consistency throughout the document.
We recommend these 2 templates for senior positions (incl. cover letters):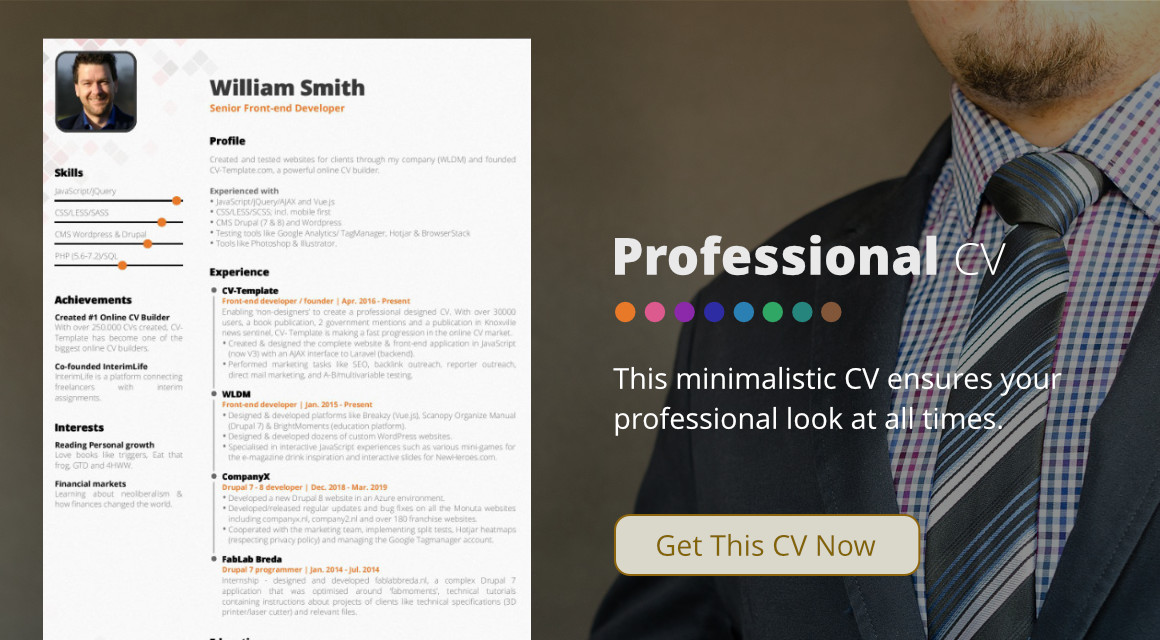 With a perfect balance between thick and clear headings and subtle descriptions, this is one of the best subtle templates on the market.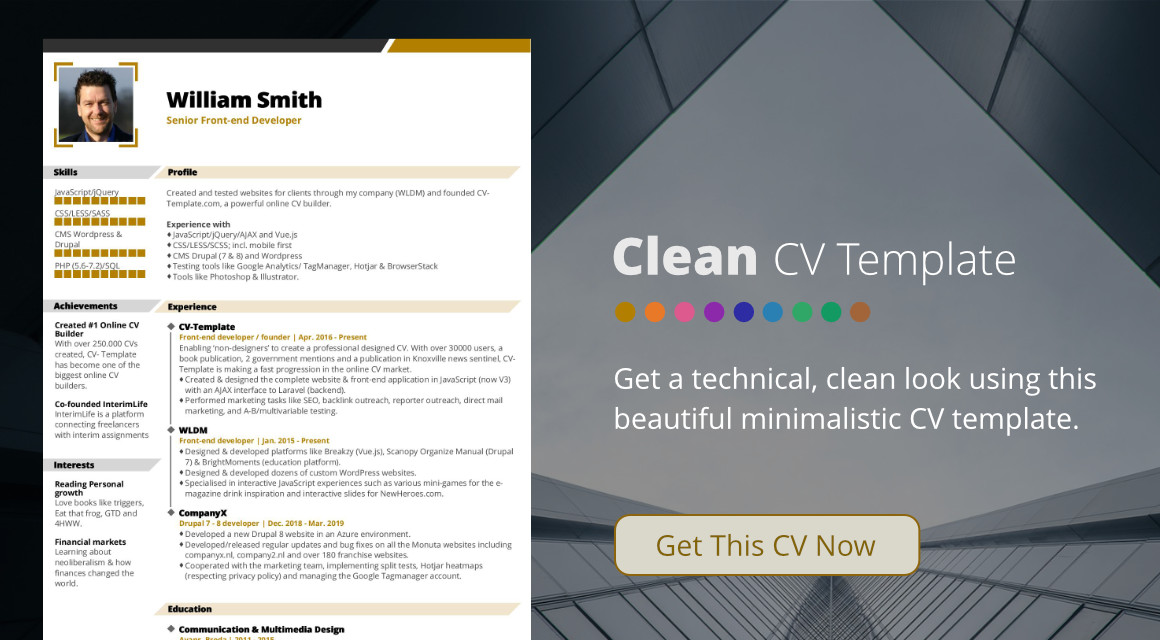 With a mirrored and divided header and footer, the overall template theme of slanted labels comes back nicely. This template is for you if you like a clean and minimalistic look.
(You can try the resume builder without an account - images can be removed)
Good luck!
Last but not least, get someone else to review your resume. Ask especially what impression it gives after scanning the document for just 5 seconds. Have you made the impact you designed?
If so, check spelling and grammar mistakes one last time (using Grammarly) and send it off. Good luck!
More resume Tips