6 Professional CV Templates that will make you stand out from the crowd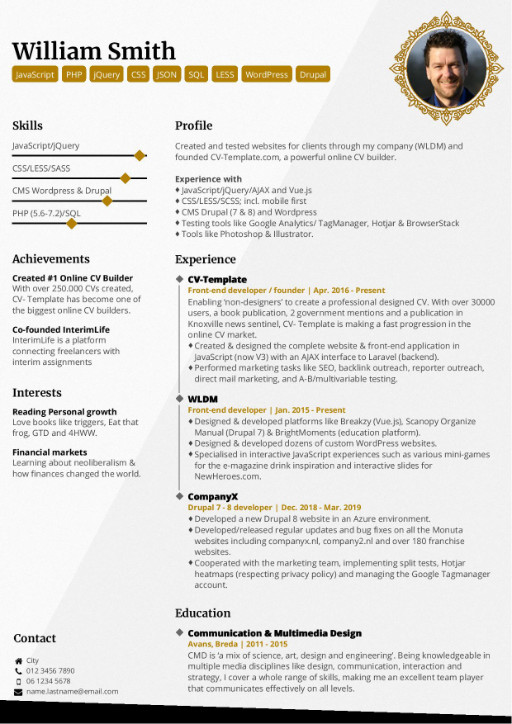 So you want to stand out with your CV?
Well… thousands of users have already seen success with my free CV templates.
But here's the thing…
I knew I could do better.
I felt I could optimise the templates further, with CVs more convincing… richly designed… and better branded towards your target audience.
The result?
This set of premium CV templates.
Whether you need a creative, a professional, or a stand-out dark themed CV, there is a premium CV that will do the job for you.
But don't take my word for it… Let me show you!
Professional CV template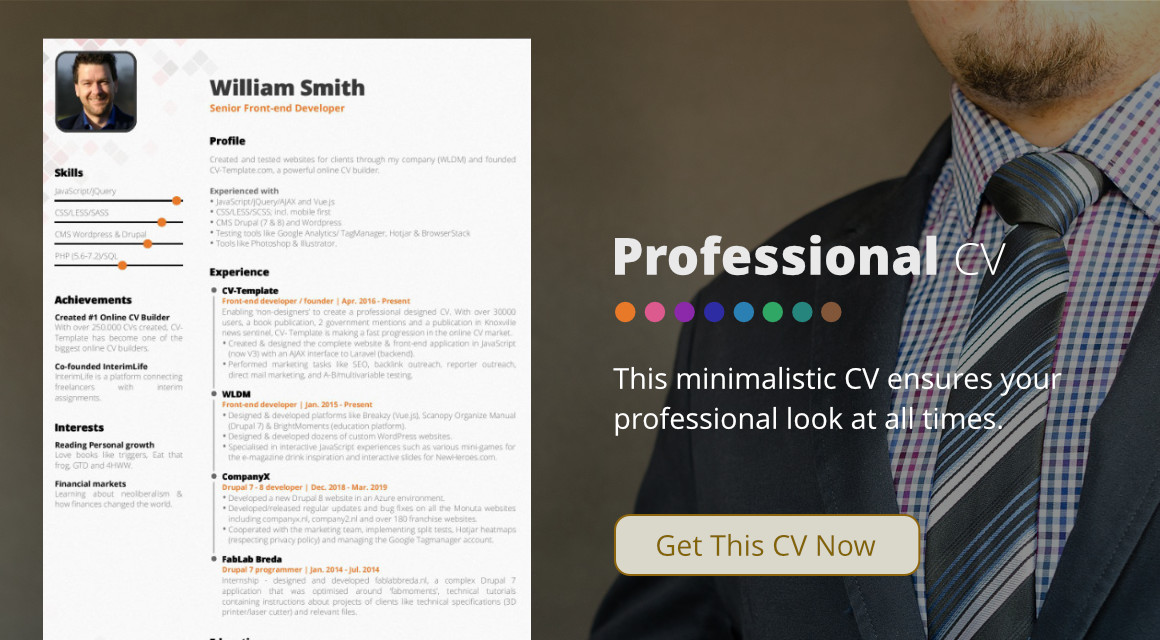 Are you serious about your career and next job? Well… optimise your first impression using this professional CV template. With this template, there will be absolutely NO WAY the recruiter can ignore you.
The devil is in the details they say - and this minimalistic CV template is a perfect example of that. While having a subtle look, the CV is beautifully balanced and adds some rich details, giving you a professional look immediately.
Every individual element adds a unique detail to the template; in fact, we made sure that there are no elements left that can be stripped away. The focus of this CV will be solely on the most important thing of your CV; the content, while it communicates professionalism at the same time.
Think about a rich paper texture, subtle use of colour highlights, beautiful skill-indicators and calm - but beautiful coloured diamonds in the corners.
With a perfect balance between thick and clear headings and subtle descriptions, this is one of the best subtle CV templates on the market.
Recruiters love it!
Photo CV Template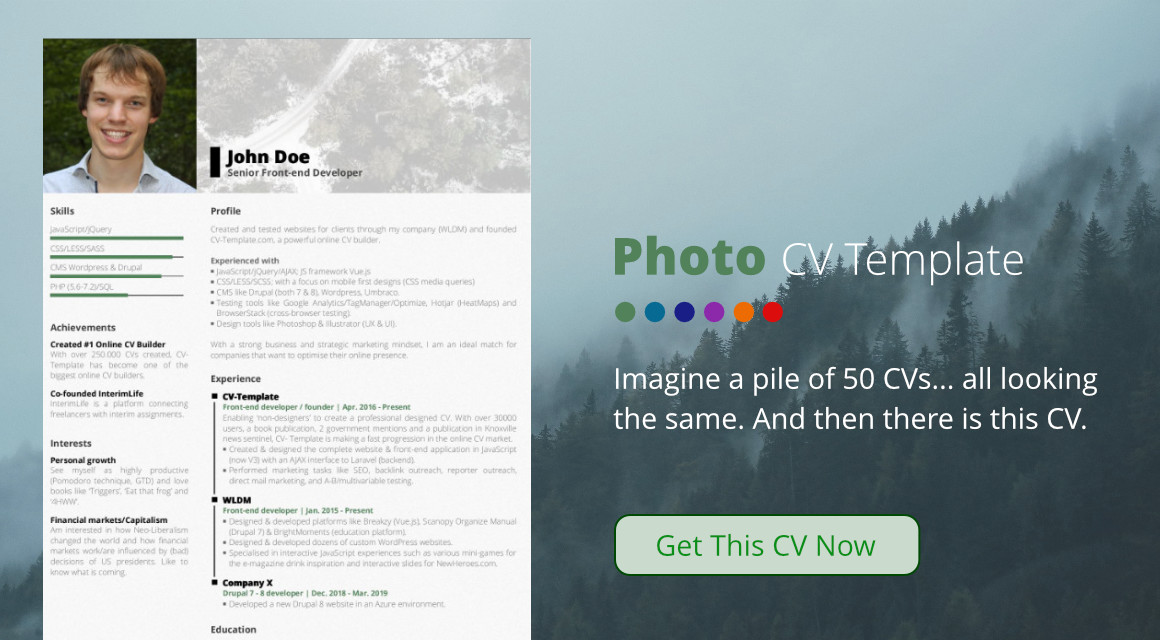 The second premium CV is a beautifully designed photo CV - with the secret weapon being an impressing (matching) header background. The best thing about this template is that it will immediately stand out from the rest.
Imagine the recruiter having a pile of 50 CVs that are all looking the same, and then there's this CV. It's clean, professional and due to the beautiful header, it is impossible to ignore.
The photo background is fully customizable, with over 14 professional image presets. But, if that isn't enough, you can easily upload your own picture to support your profile photo (and match the colour).
With advanced options like scaling the background, moving the picture and controlling the opacity of the white top layer, you can shape your CV exactly how you would like.
The rest of the CV is minimalistic, with serene colours and a subtle theme that exists of squares. Beautifully squared timelines in your work experience and education, an extra highlight block before the name element and square-shaped bullet points will ensure a consistent professional look.
Shorten your job search with this beautiful CV design!
Creative CV Template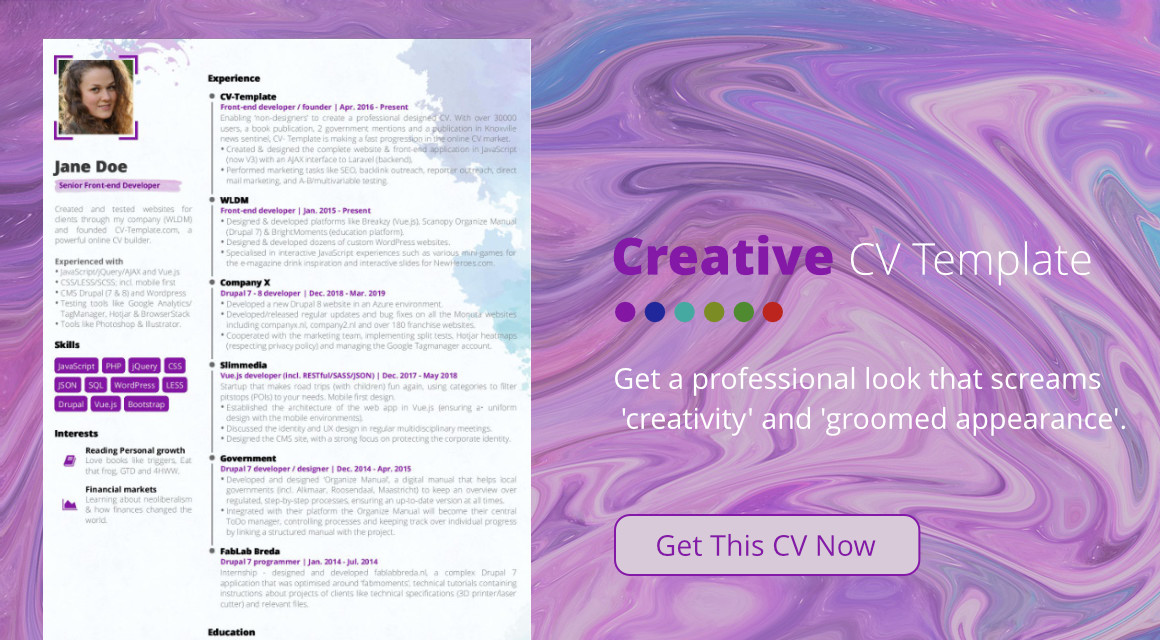 Are you a creative person? Well… then this creative CV template is for you!
With beautiful paint splashes at the right sight and under the profile picture, you ensure a unique look that instantly communicates 'creativity' and 'groomed appearance'.
The hard thing about this template was that a creative CV can be easily way too busy, screaming for attention. This creative CV is the best of both worlds; perfectly balanced between professionalism and a creative, abstract feeling.
The background colours are beautifully layered and uniquely balanced with every colour; from purple to (light) blue to (lime) green and red, this creative CV template ensures that professional look.
Moreover, the supporting Cover Letter - which by the way, are present with all templates - also have this look, creating a consistent presentation with 'creative' being your personal brand.
With a subtle paint stripe behind your job title and coloured highlights around the profile picture (which of course you could hide if you are in the US, AUS or the UK), this creative CV provides enough highlights to 'compete' against the slightly busier background while being perfectly balanced and using whitespace to your advantage.
Using skills labels instead of indicators (which you could also add), you can quickly sum up your strengths and skills. Finally, beautiful experience timelines with subtle white spaces between the items will ensure a clean look and a serene counterpart against that beautiful background.
Dark CV Template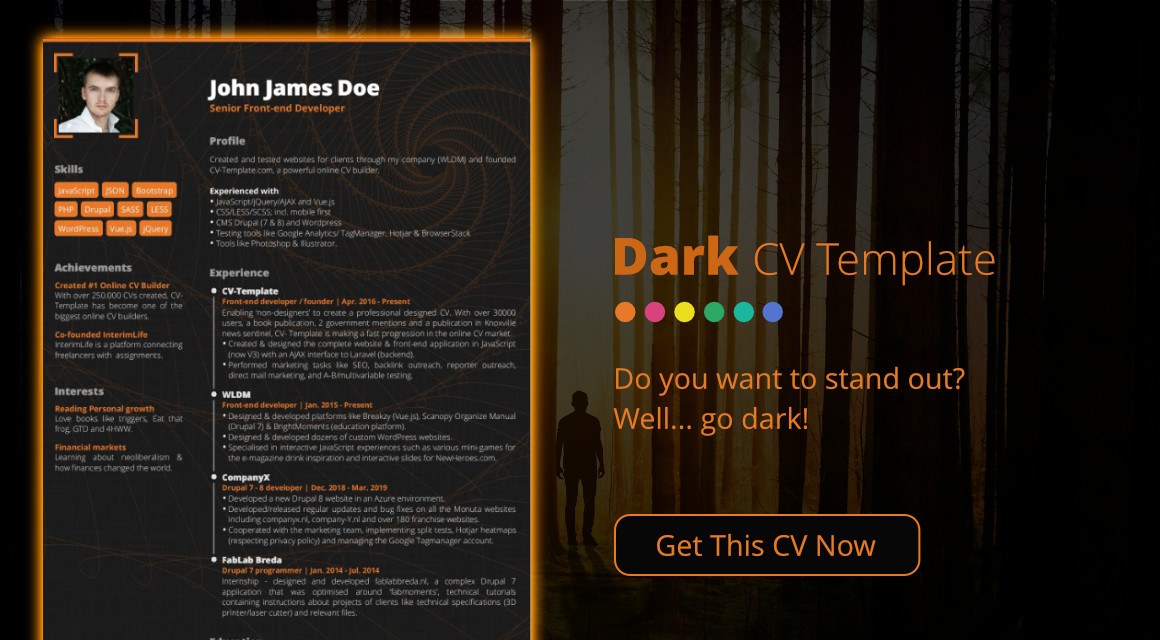 Do you want to stand out? Well… go dark! With less and less CVs being printed these days, you might take a small gamble by sending this dark-themed CV template which will definitely make you stand out instantly!
With the right balance between a dark linen background, a chic, organic shell pattern and brightly coloured highlights, you will make a stunning first impression.
When you are in search of a technical job or love this unique appearance, this dark CV template is definitely your choice.
Due to the dark CV background, the brightly coloured titles and skill labels stand out way more than a 'normal' white CV; which is a unique opportunity to optimise your first impression even more using the eye-catching skills labels in the sidebar.
Finally, the brightly coloured border top and bottom finish the look, making it one of the most striking digital CV templates out there.
Elegant CV Template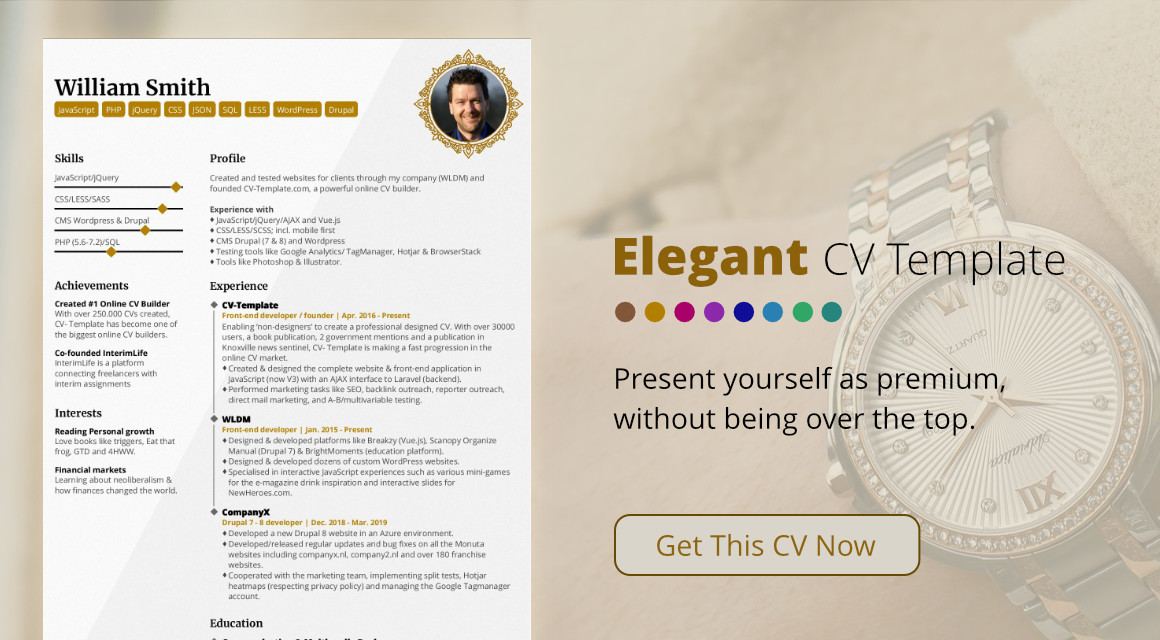 Are you looking for a fancy, chic CV? Then this elegant CV template is your best choice! This professional template contains some characteristic elements that will make your CV stand out from the crowd immediately.
Everything is designed to look as richly as possible without being over the top. The template consists of a rich paper texture and elegant picture decoration.
A smart option is the absolute image position, where you have precise control over the image position without impacting other CV elements.
Small details like a second font for your name and element titles, give your CV that elegant look without obviously trying to do so. This elegant CV has an underlying diamond theme, with skills indicators, experience timelines and bullet points all including this subtle element.
With golden skill-labels under your name, you will stand out from the crowd while immediately introducing yourself in the right context - highlighting your added value to the company at first glance.
A unique triangle-shaped grey-white background with a subtle oblique black footer finishes the elegant CV template beautifully, making it a beautiful holistic masterpiece.
Highly recommended if you want present yourself as the premium choice!
Clean CV Template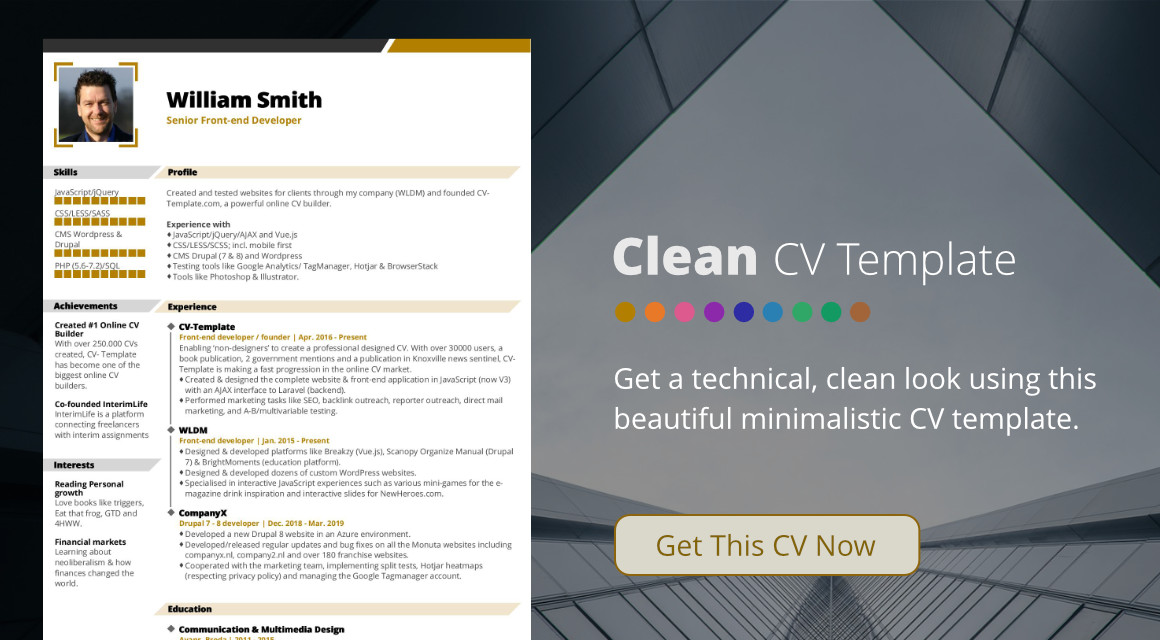 Last but not least, we included this technical, clean CV template.
With a mirrored and divided header and footer, the overall template theme of slanted labels comes back nicely. In fact, this template was the hardest to create; especially due to this clean slanted look.
With a small sidebar, this clean CV template creates lots of room for the main content; your profile, work experience and your education.
A beautiful detail is the control over the number of skill squares, ensuring a precise and maximum fit within the sidebar.
The clean label-theme comes back throughout the template, with the uses of diamond-shaped timeline elements, square-shaped skill indicators and diamond bullets.
But be aware. This template is not the easiest, as it might be a bit of a puzzle to match the labels of the left and right side in the export. However, when you finally succeed (and as you have precise control over the margins, this shouldn't be that hard), you definitely have a unique, extraordinary look.
This template is for you if you like your CV to look clean, minimalistic and are not afraid of putting a little more effort into the alignment, creating a beautiful CV look.
Use over 45 extra CV styles and advanced options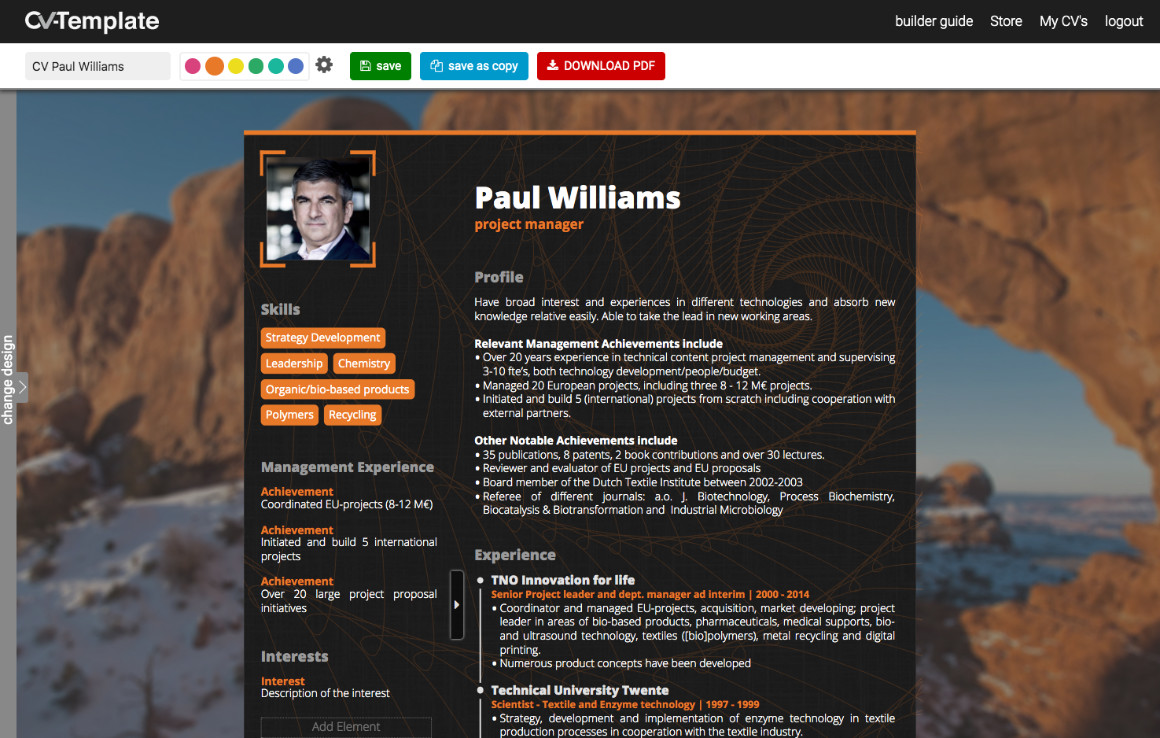 Although the free CV builder is already comprehensive; the premium line has a lot of extra advanced options that you could use to shape your CV exactly to your liking. Think about advanced alignment control, control over font-sizes, line-heights, bullet point styles and separate title fonts.
Also, there are some specific functions available within some of the premium templates, like background-image control within the photo CV template.
Plus, with CV-Template premium, you get over 25 extra element styles - like elegant and detailed profile picture masks, skill sliders (plus line and dot control) and clean-looking timelines.
If you care about your CV appearance (and you should); give it a try!
Choose your favourite CV template now
Oh… plus complete your professional look with matching cover letters!
All of these CV templates support the different CV Formats (like the experience-based, personality-based and skill-based CV format).
The templates are super-flexible so that you can design it exactly to your liking. For example, if you do not like the skill sliders, you can easily change the appearance to a dotted version with a single click.
However, to complete your professional look, every CV contains a cover letter that is designed to match the theme beautifully. Show the recruiter that you are serious about the job and approach things professionally!
As the builder is kind of a 'what you see is what you get editor', you work directly in the CV and know exactly how your CV will look at all times.
If you want to stand out from your competition and make the right first impression, this CV builder is for you.
Can I also use the formats as a resume template?
Yes, as these CVs are not based on the American academic CV but the international CV standard; these designs are also extremely suitable as a resume template. Just make sure that you fit everything on a single page and you are set.
Would you like to learn more about the differences between a CV and a resume? Read this post about CV vs Resume.
Try CV-Template premium for free
There's only one thing left to do… and that is to try out the CV builder for yourself! While premium has the advantage of being a bit more professional and provides much more control, the free options are still the best on the free CV market. It is totally up to you!
The best thing? I hate being forced to register an account without trying the product out first - so we are not going to do that; you can try out the templates for free and even without an account :-)
Choose your favourite CV template now

Free CV Course
CV Writing for Maximum Impact
Are you struggling with 'how should my CV look like' and 'what should I say about myself'? Have you spend hours of time making your CV look decent... but is it still not working?
With this free CV course, I'm going to help you to get that job.
"I have read a couple of books on CV writing and read a lot of articles on the internet but this is the only course which is kind of a practical DIY toolkit." - Manish Gupta, Helsinki
Free CV Course
More CV Tips