3 Effective strategies to stand out with your CV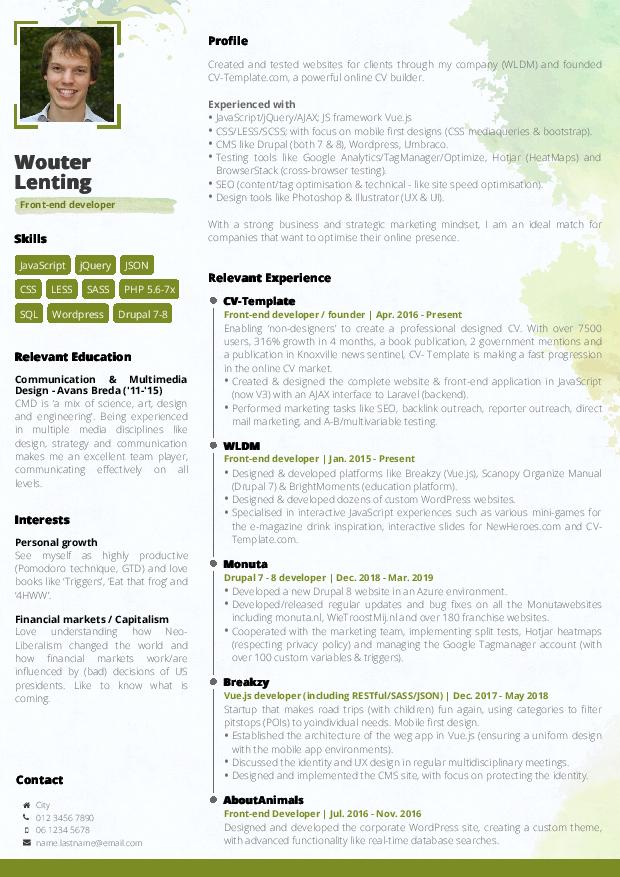 So you want to stand out with your CV?
No problem!
Slight changes will have an enormous impact; using the psychology of recruiters in your favour.
The best thing?
They are easy to implement and will improve your chances right away!
Use these quick wins to make your CV stand out at first sight.
Use Power bullets to write effective CV descriptions
Humans love stories. In fact, after hearing a story that resonates with us, your body releases a hormone called oxytocin, boosting emotions like trust, compassion and empathy.
Meaning…
Stories naturally intrigue, enabling you to make an emotional connection with the recruiter… without being there physically!
How about using this in your favour the next time you send your CV?
It's simple. You might already know that including bullet points in your work experience descriptions improve the readability of your CV.
But you can even take bullet points to the next level; converting them into complete mini-stories that arouses curiosity. And by the way, this allows you to have amazing speak material during the interview!
These mini-story bullets, what I call power bullets, should contain just enough detail to be impressive and interesting.
Avoid a complete summary of what you did; the goal of your CV is to arouse enough curiosity to get to the interview. Nothing more. Nothing less.
Explain in a few words what you did, what the result was, and what the context was earlier.
Make the achievement as specific as possible (exact numbers/percentages) and avoid vague words like many, various, considerably or substantially as this only weakens your position.
The best power bullets are about subjects the recruiter cares about.
Think about Efficiency, (company) growth, customer or employee happiness or money generating/cost-reducing activities.
Oh, and start the bullet with a CV action word to make it powerful.
For example
"Increased online conversion in 2 months with 26%, from 1200 to 1512 customers per month, by optimising headlines, bullet points and call to actions."
Clever use of a CV sidebar
After including these small, self-explanatory mini-stories, it is time to incorporate another clever hack; using a sidebar in your CV… the right way!
Think about this… Normally, CVs look like one big chunk of text; which is kind of boring for the recruiter after the 50th CV of the day.
Including a sidebar breaks this pattern AND, as the sidebar attracts the attention within the first few critical seconds, you have the power to present yourself in the right context; highlighting the things you WANT the recruiter to focus on within your CV.
Meaning… if your greatest value to the company is your skills, you should highlight your key skills in the sidebar.
If you are experienced and have a proven track record, you should highlight a list of your impressive achievements.
And if you are working with people (and your personality is important), this could be a list of your values, your mission statement, relevant personal interest or your motivation; impressing the recruiter immediately with your personality!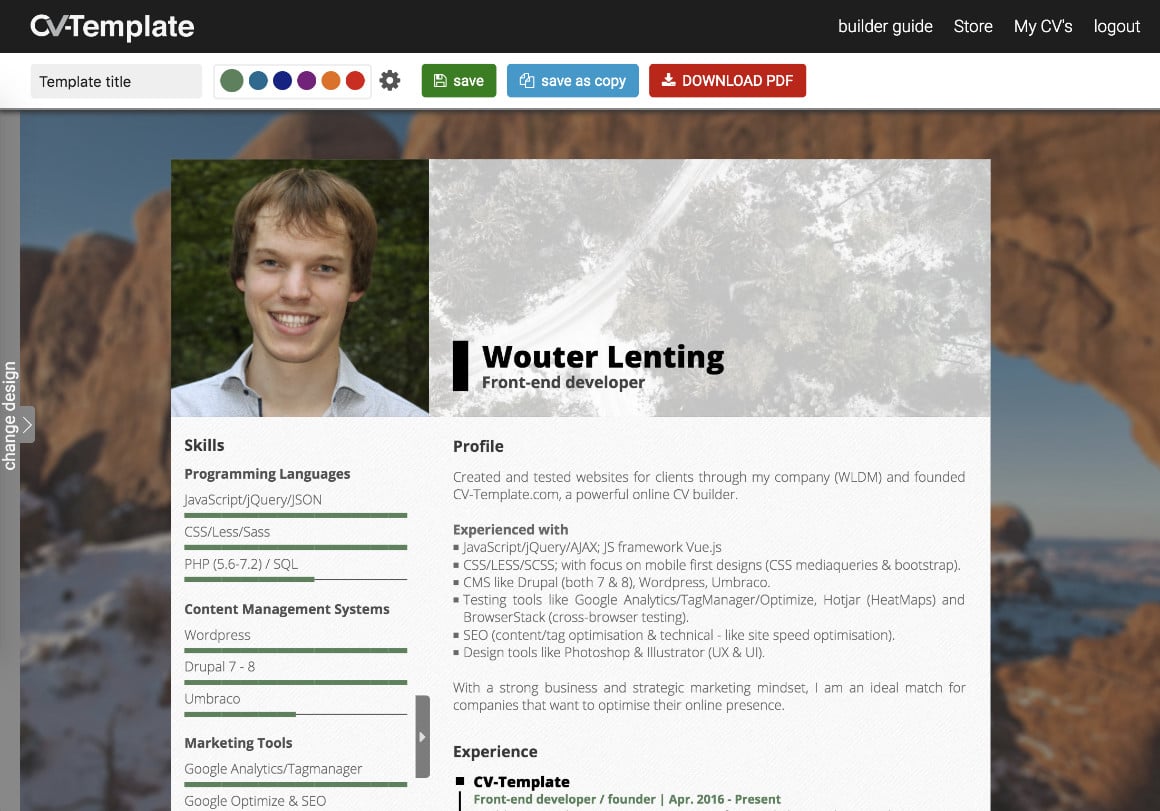 Most of my professional CV templates include a sidebar - so you don't have to worry about that!
Eyecatching timeline and skill-indicators
To make sure you are ahead of your competition, we have to do one last thing to guarantee your stand out CV.
As recruiters are being flooded by digital CVs, they don't read it anymore. They scan it for less than 15 seconds.
Your job is to make those seconds count! And every visual element that makes your CV aesthetically more pleasing can help.
That's why we are going to include some eye-catching skill-indicators and a work-experience timeline.
There will be absolutely no way that these items can be ignored… it automatically attracts the attention you want.
Some examples of beautiful skill-indicators you can easily implement are:
Your CV can look like this in 10 minutes using the CV builder cv-template.
Most CV templates are completely free and are recommended if you are seeking for a more visual approach.
Make every word count
Well, there is only one thing left to do… And that is to make sure that every word adds value.
You see… on average, 50 to 60% of all the words on your CV doesn't add value. And it is hurting you more than you think.
Look closely at every sentence. Does it start with an action word to give it an active voice? Is every word in that sentence essential?
If not, immediately remove it as it will only have a negative effect; either you don't know how to write a CV or you have nothing better to show!
Go through your CV one last time and think about what the recruiter would think after looking at your CV for 15 seconds.
What qualities stand out? Are all the keywords that he is scanning for there? (Include the 5 most important keywords at least 2 or 3 times in your CV).
Do these steps and your interview is (almost) guaranteed. Good luck!
Choose your stand out CV template now!

Free CV Course
CV Writing for Maximum Impact
Are you struggling with 'how should my CV look like' and 'what should I say about myself'? Have you spend hours of time making your CV look decent... but is it still not working?
With this free CV course, I'm going to help you to get that job.
"I have read a couple of books on CV writing and read a lot of articles on the internet but this is the only course which is kind of a practical DIY toolkit." - Manish Gupta, Helsinki
Free CV Course
More CV Tips