What is YOUR best CV format?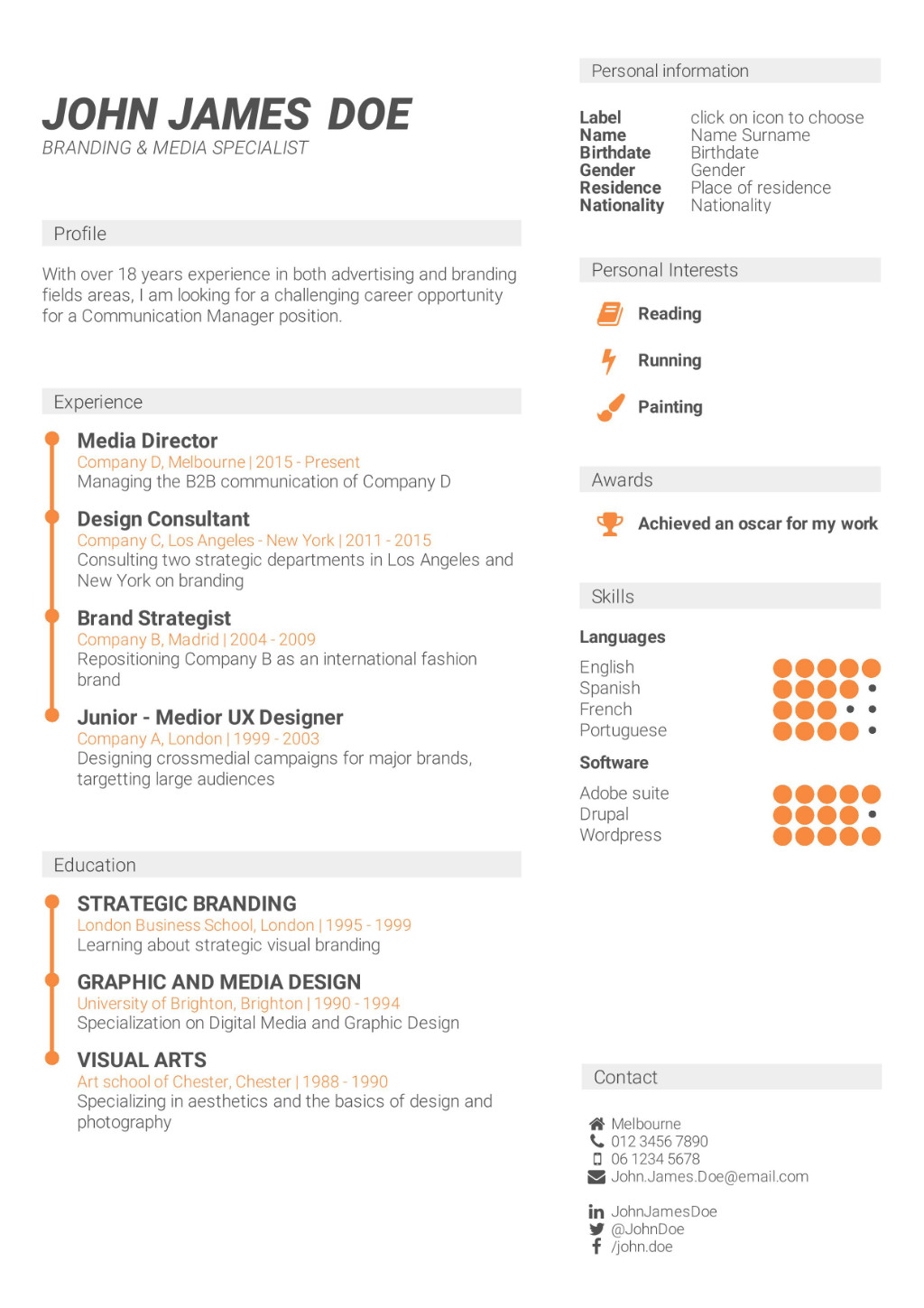 Combination Chronological-skill based CV
So you want to know what YOUR best CV format is?
There's only one honest answer…
IT DEPENDS.
The internet is full of scammers that have 'found' the best CV format…
A new magic pill…
The one thing that will change all…
You only have to pay…
Run away… FAST!
There is NOT a single best CV format that magically fits everyone.
It just doesn't exist.
Why? Because everyone is UNIQUE!
You are in a unique career position. You have unique work experiences and a specific skill set that benefits the employer a certain way.
There's actually one thing that I CAN ensure you…
Your best CV format is NOT the format you are currently using.
You see… with the coming of the DIGITAL AGE, the recruitment industry changed enormously.
The classic CV formats just aren't optimized for today's job market.
They are useless today…
Fortunately, there IS a simple, 1-MINUTE solution…
A modern CV format that IS optimized for your unique situation. One that will make your CV highly effective in today's market.
Your CV will be like your personal one-way ticket to that job interview.
The 4 classic CV formats
Basically, there are 4 classic CV formats.
The Reverse Chronological CV
The Functional/Skill-Based CV
The Academic CV
A combination of reverse chronological and skill-based CV format
They all have their strengths and weaknesses…
But there are two MAJOR issues that make them completely useless…
It is impossible to PERFECTLY fit one of these CV formats.
They are OLD CV formats… and NOT optimized for today's market.
The recruitment industry changed drastically in the digital age.
What worked in the past can be fatal today…
Recruiters don't read your CV anymore… They SCAN.
The result?
You have only 20 seconds to impress the recruiter.
Does your CV look chaotic? Is there any irrelevant information?
You're done.
Do you really expect the recruiter to read your long list of job responsibilities? Think twice.
Yes, you might be the best candidate with great qualifications…
But if your CV does not communicate that at glance, you're done anyway.
It is your job to SHOW IMMEDIATELY that you are the ideal candidate.
That FIRST IMPRESSION is the most important part of a CV nowadays.
Classic CV formats are just not optimized for that first impression.
Your CV will.
But first, let me explain the classic CV formats…
So you will know WHY my CV strategies work!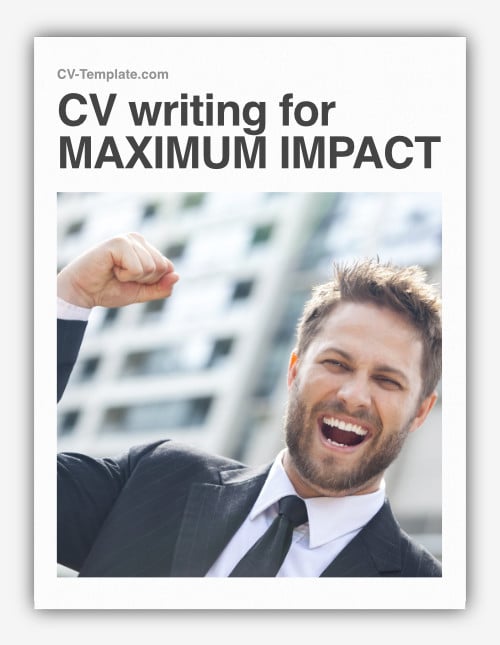 Professional CV in 7 Simple Steps
In-depth strategies. Psychological secrets. Valuable examples.
Learn how to write your CV for MAXIMUM IMPACT!
Reverse Chronological CV Format
The reverse chronological CV is the most common CV format.
It is THE ideal format to demonstrate your work experience and recruiters like the overview.
The advantage of the reverse chronological CV is that it emphasizes your work experience and education path.
It is the ideal format to showcase growth and direction of your career, with the latest 3 jobs described in more detail.
The reverse chronological CV format is your best choice when…
You have an extensive work history AND is every job is aligned with the job you're applying for.
You want to focus on your career path (demonstrate your growth) and achievements.
But the reverse chronological CV is not for everyone…
That major focus on work experience is also its BIG pitfall.
Have you switched your career?
Have you work experiences that are irrelevant to your next job?
Do you have a lot of gaps in your CV?
In other words…
Do you NOT have the PERFECT career path like 95 out of 100 people?
Then the reverse chronological CV is not for you.
Don't focus that much on work history and choose a different CV format.
The reverse chronological CV format generally looks like this
Personal statement/summary
Work experience
Education
Skills (optional)
Achievements/interest (optional)
Referees (optional)
Functional/Skill-based CV Format
While the reverse chronological CV might be not the best choice when changing careers, the skill-based CV is made for it.
Do you have gaps in your employment history… have non-related work experiences… or possess key skills that are more important for the job?
The functional CV format is definitely the better choice!
The advantage of the skill-based CV is mainly that it emphasizes your capabilities and specific skills rather than work experience.
Let the recruiter focus on the actual skills you possess instead of impressive job titles and companies (reverse chronological CV)!
Of course you still have to include your work experience…
However, this section won't be in the spotlight and is mainly used to state proof of the key skills.
The downside?
It is hard to structure your CV and to find the right balance.
How do you list your skills in MS word in a manner that avoid large lists that just wastes lots of space? How do you keep your CV readable?
More importantly, how DO you let the recruiter focus on skills while they are trained to go straight for work experience?
The functional CV or skill-based CV format generally looks like this
Personal statement/summary
Key skills
Work experience
Education
Hobbies/interest (optional)
Referees (optional)
Academic CV Format
An academic CV is often an extensive document that highlights education, research, publications, presentations, professional associations, awards/honours and teaching experiences.
It is based on the reverse chronological CV format but provides far more detail on research and academic activities.
While the average length of CVs is around 2-3 pages (for resumes 1), an academic CV covers anything from 5-12 pages(!).
The academic CV order generally looks like this
Objective
Personal profile
Education (detailed)
Work experience
Skills + qualifications
Interests (optional)
Referees
Appendix (academic additions)

Researches
Publications & presentations
Honours & awards
Professional memberships
Combination CV Format
(Reverse Chronological-Functional)
Combine the reverse chronological CV and the skill-based CV and it might give you that extra bit to persuade the recruiter.
The general idea? Take the best of both formats.
Maintain that focus on work experience but provide more context around your skills instead of solely on achievements.
In other words…
Show how the recruiter can benefit from that work experience.
This CV format is also ideal for entry-level candidates and students entering the job market that wants to emphasize their skills.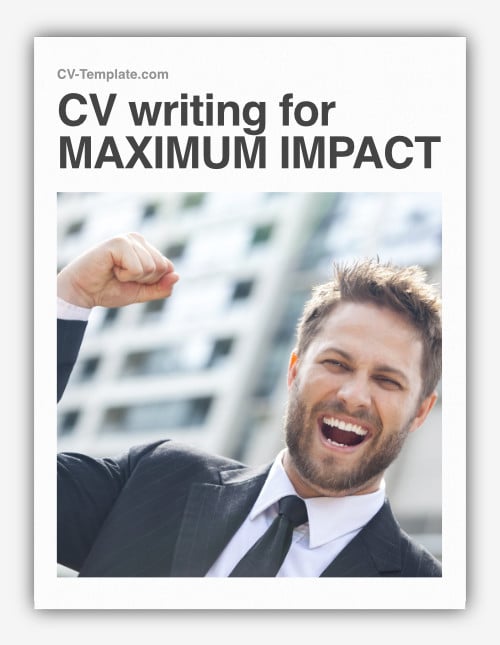 Professional CV in 7 Simple Steps
In-depth strategies. Psychological secrets. Valuable examples.
Learn how to write your CV for MAXIMUM IMPACT!
So, what's MY best CV format?
Every CV format has its strengths…
But it is almost impossible to fit a classic CV format 100%.
Almost nobody got a perfect career path.
And even then you still can make it better as those CV formats are not optimized for the first impression!
That's why I improved the chronological CV… making it SCANNABLE.
I optimized the format for the first impression and made it effective in every situation of your career… by introducing focus types.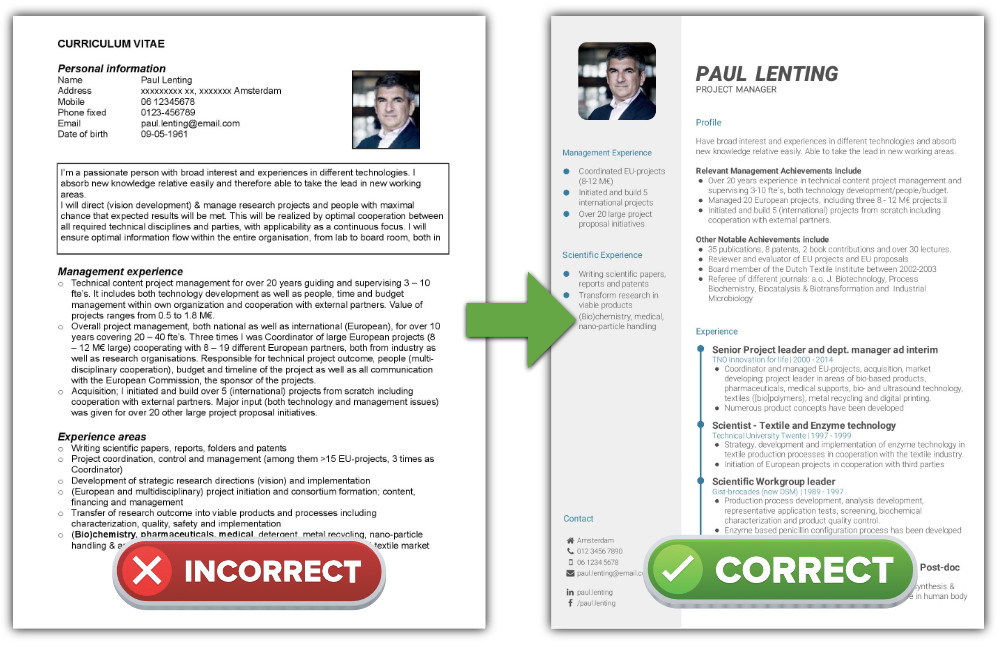 Basically, the CV format highlights your greatest added value to the company in a sidebar. Think about your Achievements, Skills or Personal interests.
The strong, context-setting CV summary (that is based on your focus type) will take care of the rest.
The CV format provides the ideal introduction that will take you past the first selection.
And by the way… Did you know that…
Your CV can look like this good in no-time… FREE ONLINE CV MAKER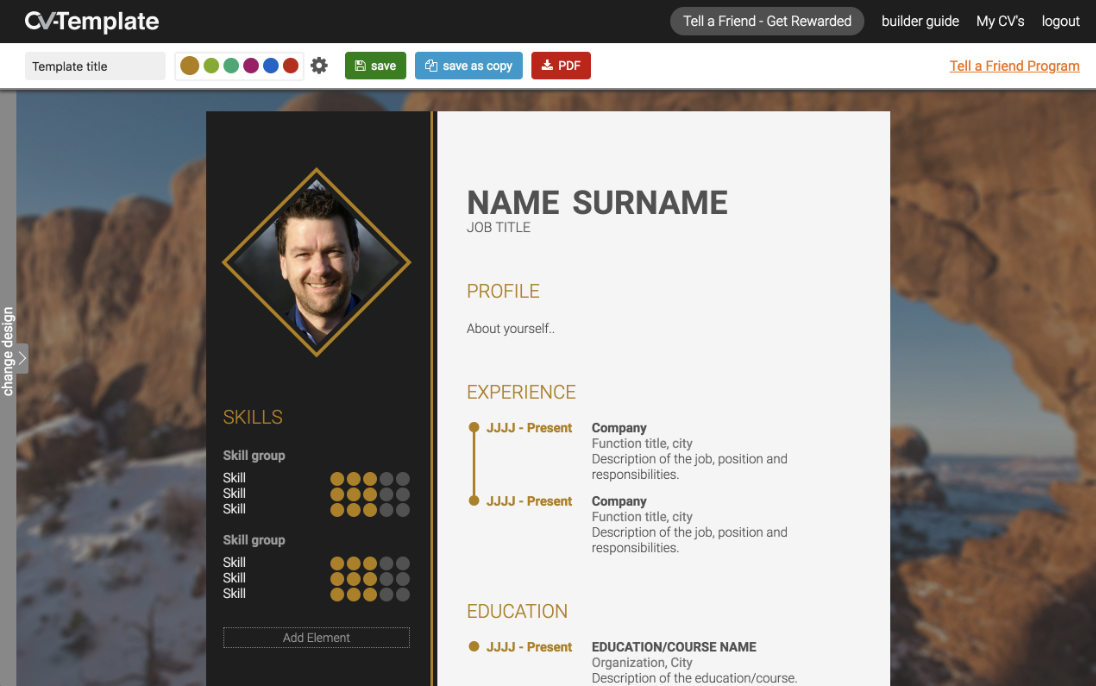 Are you having a hard time writing your CV? Do you struggle with the CV format or have you spend hours and hours making your CV look decent?
My free CV maker will take care of it. It supports your best CV format and takes care of the sidebar.Free Online CV Maker
Just pick a professionally designed CV template and get a great-looking CV in no-time! It's free - no premium model or logo BS.
Best CV Format:
Design how recruiters read your CV
To understand why my CV templates work so well, you have to know how a recruiter scans your CV.
Normally, the recruiter looks at your name, then the top half of the page (your stand-out summary)
Followed by your experiences (what organizations and keywords)
And second-page headlines (is it more work history, educations or volunteer work?)
Then he's going to make a decision; do I want to read more or not?
You know by now that the recruiter spends only 20 seconds on each CV.
Meaning… your CV needs to be scannable.
The sidebar is the perfect eye-catching start, highlighting your greatest value at first glance.
After 3-5 seconds, the recruiter continues with your powerful context-setting summary and the rest of your CV.
At that point, he has already the right focus and the summary only reinforces this branding more in-depth.
Your CV immediately shows your suitability and will pass the critical first round, eliminating 95% of your competition.
The 3 different focus types
Remember what I said in the introduction?
There is no single Best CV format as everyone is in a different position.
To make this model work for everyone, I invented 3 different focus types that are optimised for different personalities and job positions.
Performance-based focussed CV
You are already ahead in your career and have a nice list of employers (work experience) and achieved results.
Put an 'achievements' section in the sidebar, immediately impressing the recruiter with your unique selling points.
Use the performance-based summary (explained further in this CV course).
Skill-based focussed CV
You have a special skill set that can benefit the future employer.
The CV is focused on achievements and skills/competencies rather than the career path.
Put the skills or competencies section in the sidebar; the skills section in our template builder draws the eye with rating bars while competencies provide room for a convincing description.
Use the skill-based summary
Personal-based focussed CV
You are working with people and your personality is important.
The personal-based CV focusses more on your personal values, motivation and people/social skills rather than achievements.
Are you a student looking for an intern or your first job?
If you don't have achievements or your job is not specifically based around a skill set, go for this format.
Put your personal interest (targeted on the job) in the sidebar, which will arouse awareness of your personality.
Write a persuasive description that emphasizes your motivation within the person-based summary.
Of course, the focus types are flexible and even in the personal-based CV, there's room for achievements.
By giving focus to the CV using this simple strategy, you will be able to create a narrative throughout your CV, emphasizing the highlighted aspects and thus reinforce your personal brand in every section.
Download all CV format examples
Which CV focus type is for me?
Maybe you already know your greatest added value (achievements/experience, skills/competencies or personality/social skills) but otherwise, these questions might help:
Question: Is the job more person or result oriented?
If result-oriented:
Do you have a convincing work history?

Yes: Choose performance-based focus type
No: Choose skill-based focus type

If person-oriented:
Are you more people-focused or more into skills/achievements?

If people-focused: Choose personal based focus type.
If skills/achievements: Choose skill-based focus type.
Still in doubt which focus-type is the right one for you? Take the free CV Quiz and find out!
Free online CV builder
After choosing your free CV template from my CV builder, you can switch between the different focus types and see the differences for yourself.
Click here to choose your free CV template
The next article focusses on the CV basics.
Employers hire for only 2 reasons. Would it help knowing the right words to use and avoid in your CV depending on their needs?

How to write a CV - Part 6
Getting the CV basics right
Recruiters only select the best CVs, not necessary the applicants with the best qualifications.

It is critical to get the CV basics right. Your CV has to be about THEM and not about what you want to tell!
CV Basics
next lesson