Hobbies/Personal Interests In Your CV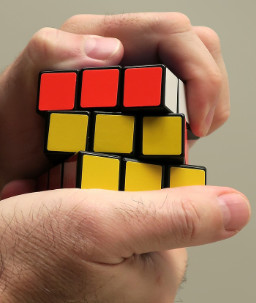 How about using a problem-solving hobby to show that you are intelligent?
Including hobbies in your CV is not professional… Right?
But on the other hand…
It does make your CV more personal.
So… what should I do?
Well… take a step back.
What if I told you that there was another reason?
A strategy that will turn your CV hobbies into an asset?
I NEVER let you include something in your CV that does not ADD VALUE.
How about using your hobbies cunningly, SHOWING the employer why you are the best hire. PROVING that you possess the right abilities?
Why should I list my hobbies and interests on my CV?
Until recently, interests and hobbies were perceived as irrelevant.
It was not professional.
But today, big innovative companies are more and more looking for people that align with their culture.
They are seeking candidates that fit with their personality and values.
You guessed it, the best way of showing that you are 'one of them' is by selecting the right hobbies!
Remember the CV skills article where I stated that soft skills (social/emotional skills) are worthless unless proven?
How about SHOWING the recruiter that you are disciplined by letting them know you are training to run the marathon?
How about GIVING EVIDENCE of being a team player by stating a team sport like football?
How about SHOWING that you are a leader by writing that you are coaching a junior baseball coach.
Your personal interests are one of the few places where you can freely and obviously promote yourself WITHOUT SOUNDING that way!
Together with your achievements, including CV hobbies is one of the best ways to provide evidence of your qualities.
Do it. Especially if you don't like to promote yourself. You don't have to. Your hobby will do that for you.
And by the way, imagine a recruiter looking through all those boring CVs… All looking the same…
What would be more fun: reading another business-like Curriculum Vitae, or diving into ones' personal life?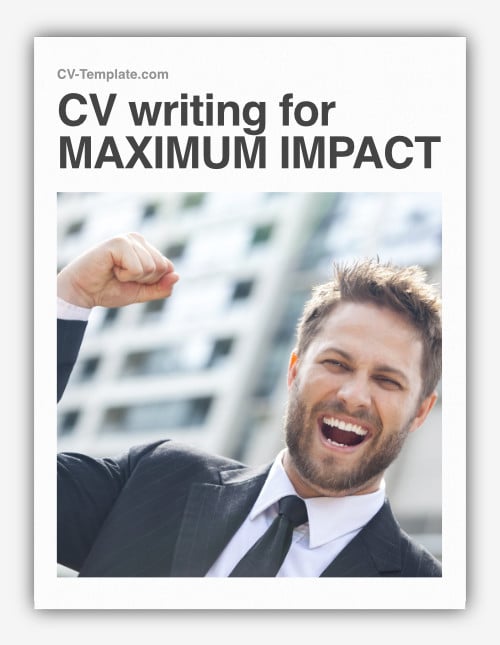 Professional CV in 7 Simple Steps
In-depth strategies. Psychological secrets. Valuable examples.
Learn how to write your CV for MAXIMUM IMPACT!
Examples of smart CV Interest / CV Hobbies
NEVER state hobbies that are not of an added value.
Every hobby should have a clear intention. It has to show one of your best characteristics.
Do you love playing soccer? You are a team player. You are good with people and are competitive. You are fanatic and want to constantly improve yourself, seeking perfection.
Are you coaching a junior team? You are a leader! You are passionate and love to contribute. You want to make a difference.
These are some good hobby examples on how to use them cleverly.
Individual sports like running the marathon. Show the recruiter that you are fit, disciplined, passionate and enjoy challenges.
Team sports like football or baseball. Show that you are a team player. You are good with people and are competitive.
Puzzles like crosswords or chess. Show that you are problem-solving and an analytical thinker. You are an intelligent strategist.
Social hobbies/interests. Show that you communicate well with others.
Coaching. You work well with others and have leadership skills.
Aligning your personal interest with the job
Finding something interesting to say about yourself isn't easy.
The best personal interests are aligned with the qualifications of the job, providing EVIDENCE that your statements are correct.
Some questions that can help you find your interests are:
What are your hobbies? (Obviously)
What are you passionate about?
What do you do in your free time?
What skills do you practice?
Do you love books?

What type of books are you reading?

Are you learning something new?
Another use case of hobbies is to show that you are one of them. Show that you fit into the companies culture.
First, find out what the companies culture is.

Read the job description carefully. What characteristics does the company like you to have?
Read the 'about us' page on their website

What does the company communicate on social media?
What type of team trips do they do? How do the employees dress? It is strict corporate or is it casual?
List all your interests and try to think for each item 3 aspects that could be a benefit for your CV. Select the best 3!
Align your personal interests with your soft skills, personal aspects and company culture and you will pass this test.
Do you need to be social within the job? Put a social interest.
Do you need to solve problems? Put a problem-solving interest!
Is the company all about helping others? Add voluntary work. Show that you are one of them.
Try to find at least one social hobby/activity. This will prevent a 'lone-wolf' impression!
Always make sure that the chosen personal interest does add value. Don't state them for the sake of having personal interests on your CV.
Do you only have one appropriate CV hobby? Consider including it in your CV summary instead of a whole CV section.
Should I include unique or extreme hobbies in my CV?
Having a unique list of hobbies will definitely make you stand out from your competition.
State "Wakeboarding" and you will immediately be memorable.
Moreover, it guarantees an amazing entry in the job interview.
However, make sure the hobby does not scare the recruiter off!
Having an aggressive or extreme hobby will tell that you are a risk taker. Maybe that is not a great combination with a desk job.
Having a passion for firearms might not be the best combination with a child-hospital position.
So having extreme or unique hobbies will make you memorable. The recruiter will be intrigued and ask himself what kind of person you are.
Include them. Especially for those reasons. But always make sure that it is not harmful for that particular job position.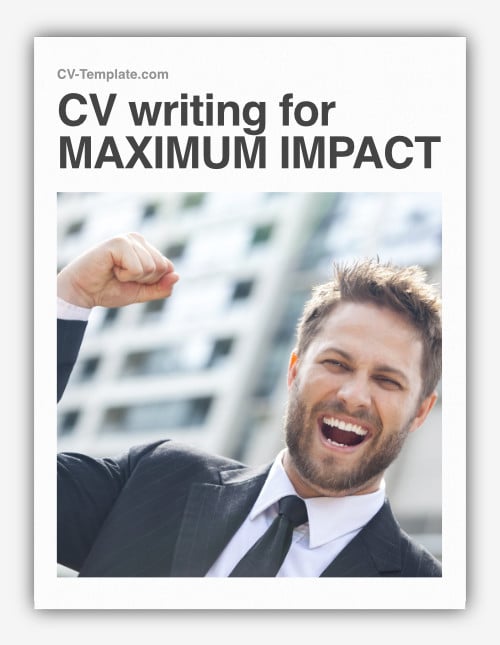 Professional CV in 7 Simple Steps
In-depth strategies. Psychological secrets. Valuable examples.
Learn how to write your CV for MAXIMUM IMPACT!
Use your CV hobbies to fill gaps in your skills
Let's pretend you are a graphic designer.
The most straightforward way of using hobbies is choosing 'photography' to emphasize that you are visual-oriented.
This reinforces your designers brand and shows proof of your suitability.
Definitely clever. But you can even stretch it further.
What are important aspects of the job you didn't address yet? What are some weak points you still need to cover?
What would be possible question marks when missing?
Imagine you are still that graphic designer. As a graphic designer, you work most of the time alone behind your computer.
Maybe you don't have any social hobbies. However, you don't want to be perceived as that lone wolf.
How about showing that you are good with people by narrowing 'photography' down to 'portrait photography'?
Target your hobby and use a description to make your intention clear.
Write targeted descriptions to ensure the right impression
Instead of just listing your CV hobbies, always use a description to make your intention clear. Show your passion and emphasize the WHY.
Make sure that the recruiter will get the message.
Instead of a boring hobby list like "portrait photography, training football teams & Founded coaching board for Start-ups".
How about:
I enjoy portrait photography because of the interaction with people while being aligned with my passion for visuals.
Training a football team two times a week, enabling young children to grow & flourish.
Founded a coaching board for start-ups because I love to help young entrepreneurs strategize and grow their business.
Design what the recruiter will think about the hobby. What should be their positive reaction?
Try making the recruiter curious and intrigued about you.
Make him interested in your life on an emotional level so that you are not 'just another CV' but a living human being.
Moreover, be specific.
"Reading Spanish thrillers" says a lot more about you than just "Reading".
How about "Love reading about self-improvement & personal productivity. Favourite authors include Napoleon Hill, Brian Tracy, Robert Kiyosaki".
This one sentence tells the recruiter that you are ambitious and are accountable. You have ownership over your activities.
It says that you are constantly improving yourself and are into self-growth. But at the same time… Did it sound like self-promotion to you?
That's the power of including hobbies in your CV.
Stating a list of interest helps the recruiter to create a full picture of you and build an emotional connection.
The trick is to show the recruiter that you are exactly the type of person they seek. It is your job to find out what kind of person that is!
Tip: Can you find out who the recruiter will be? How about scanning his LinkedIn profile for matching interest? What groups did he like?
Use all means necessary, right?!
Personal interest/hobbies checklist
Align your interest with the companies culture.
Use your cv hobbies cleverly to give proof of your qualifications.
Add at least one 'social interest' like coaching, mentoring or a team sport.
Only add personal interests that are of added value for the job.
Describe the hobby detailed to make your intention clear.
Try my free CV builder
Are you having a hard time writing your CV? Stop wasting your time.
Just choose your flexible free CV template, follow the CV format and click 'free download'.
You will have a professional-looking CV in minutes…
Without paying a dime!
Click here to choose your free CV template
Recruiters love it. Learn more about the free CV builder.

How to write a CV - Part 13
CV references
Good CV references are in the top 5 of important factors for interviewers to consider hiring. But is it still necessary to include these referees on your CV?

Learn now what the best cv references are now!
Next lesson
next lesson