The Basic Elements of a CV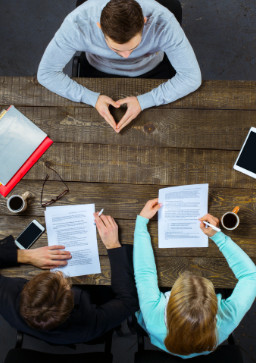 Read the CV course from the start?
If you did, you know why it is essential to tailor your CV to the job.
You have investigated your job…
… and know EXACTLY what your function solves.
In other words…
You have everything you need to write your CV for Maximum Impact!
So let's dive directly into it: getting the CV basics right.
CV introduction: Your job title
The most important thing about your CV?
Your first impression.
You HAVE TO impress within the first 20 seconds or you are gone.
Guess what!
That first impression starts with what you call yourself.
Your job title is the context-setting start of your CV.
Do this right and you'll have the attention of the recruiter. Give yourself a fancy job title nobody knows and it is immediately a no…
So… you want to know the secret?
BE SPECIFIC.
Look carefully at the job description to find out what the company is REALLY looking for.
What is their problem? What does the function solve?
Maybe they say that it is a 'marketer' position…
But what kind of marketer are they EXACTLY looking for?
Is the job ideal for a neuroscience marketer, an email marketer or is it more about branding or strategizing?
Remember that the recruiter is looking for a specific solution. Your job is to BE that solution. Starting with the right job title!
The conclusion?
Describe yourself as precise and detailed as possible. But don't use fancy terms no one knows! Be industry-standard.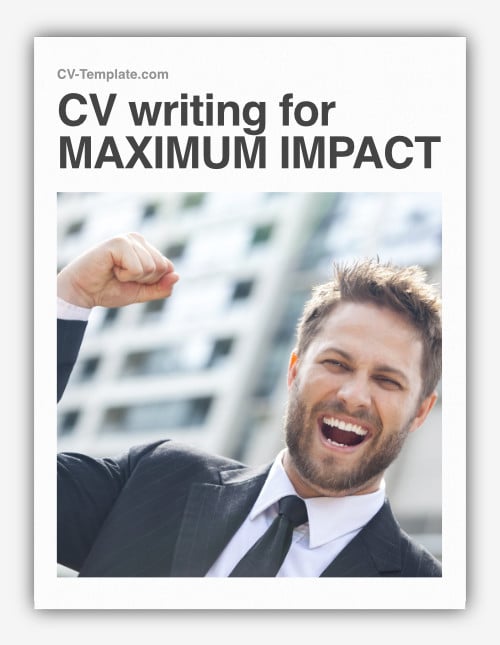 Professional CV in 7 Simple Steps
In-depth strategies. Psychological secrets. Valuable examples.
Learn how to write your CV for MAXIMUM IMPACT!
How to be the ideal candidate
You know what? Recruiters DON'T CARE about you.
At least not that much.
You're just one of the thousands of CV's they reviewed in their career.
They share no EMOTIONAL connection with you.
And that is fine.
Just don't try to make it that way. Keep your CV objective and professional!
Their job is to solve the companies problem and to make sure they hire the right candidate.
Your job is to make sure to communicate yourself as the ideal solution.
That means NO talking about what YOU want.
There is plenty of time for that within the job interview.
Focus solely on the benefits to the employer.
Show proof of your capabilities. No empty statements.
I'm NOT saying 'hide your personality'.
Recruiters love that.
Just focus more on the employers' benefits and use achievements rather than meaningless statements talking about what you seek.
If you have not yet read align yourself with the job, do that first.
It covers the critical questions that will enable you to write your CV effectively.
Create a winning CV outline
In align yourself with the job, you crafted your personal brand.
Everything in your CV should emphasize that message.
Do that and the recruiter will remember you for the things you WANT the recruiter to remember you for.
I will tell you how to emphasize that message in each CV section.
But let's talk first about your general CV outline.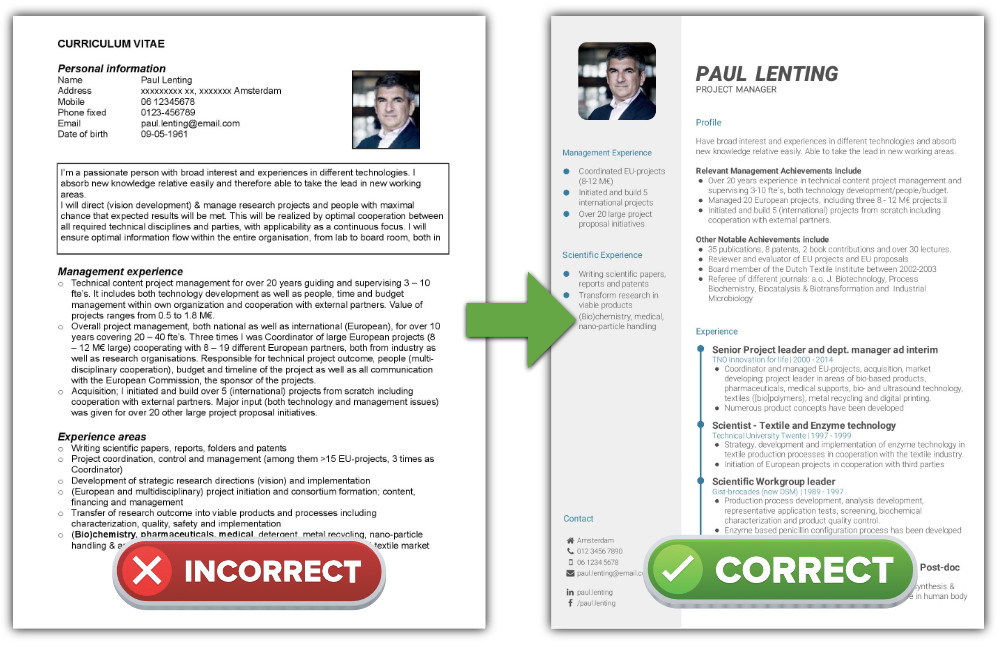 In best CV format, I talked about how recruiters look at your CV and how to turn that psychology into your ADVANTAGE.
Impress immediately with your greatest added value in the sidebar (using one of my free CV templates).
Write your CV summary in a specific way to provide a powerful context-setting start of your CV.
After that context-setting summary, the recruiter has to be excited.
The recruiter should not be able to resist NOT to read on!
You know what the recruiter is looking for, now it's your job to emphasize these aspects in every element of your CV.
Your objective: keep the recruiter nodding yes after scanning each section and state proof of your abilities.
Don't tell them that you are hard working (like everybody else). Give evidence in job descriptions or your personal interests (I'll come to that).
What I mean by 'every CV section should strengthen your position'.
Remember the education section from how recruiters look at your CV?
Even the education section can strengthen your brand by giving proof of your relevant knowledge.
Major Science, X University
Reached my degree in science
vs
Major Science, X University
Courses included; Advanced Calculus & Linear Algebra, Multivariate Calculus & Ordinary Differential Equations, Discrete Mathematics
The same study, much more powerful.
If you applied for a medical research job, the description would be:
Major Science, X University
Relevant courses; Medicinal & Biological Chemistry, Drug Design & Development, Stem Cells and Regenerative Medicine
Isn't that interesting!
Simply highlight the facts the recruiter is looking for.
The personal interest section is also an opportunity as almost nobody uses it the smart way.
You see…
The number one question of every recruiter is 'Why should I hire you?'.
Most people answer with 'I'm hard working' or 'I'm reliable'.
Oh, and everyone is 'passionate and motivated' in their CV nowadays.
Use personal interests to SHOW that you are disciplined by telling the recruiter that you are training to run the marathon.
Instead of writing that you have a leadership skill, use your coaching hobby to give EVIDENCE of that ability!
Provide as much evidence of your capabilities as you can.
Use every section to reinforcing your personal brand that is aligned with their solution. For more examples, read the personal interests article.
Free CV Builder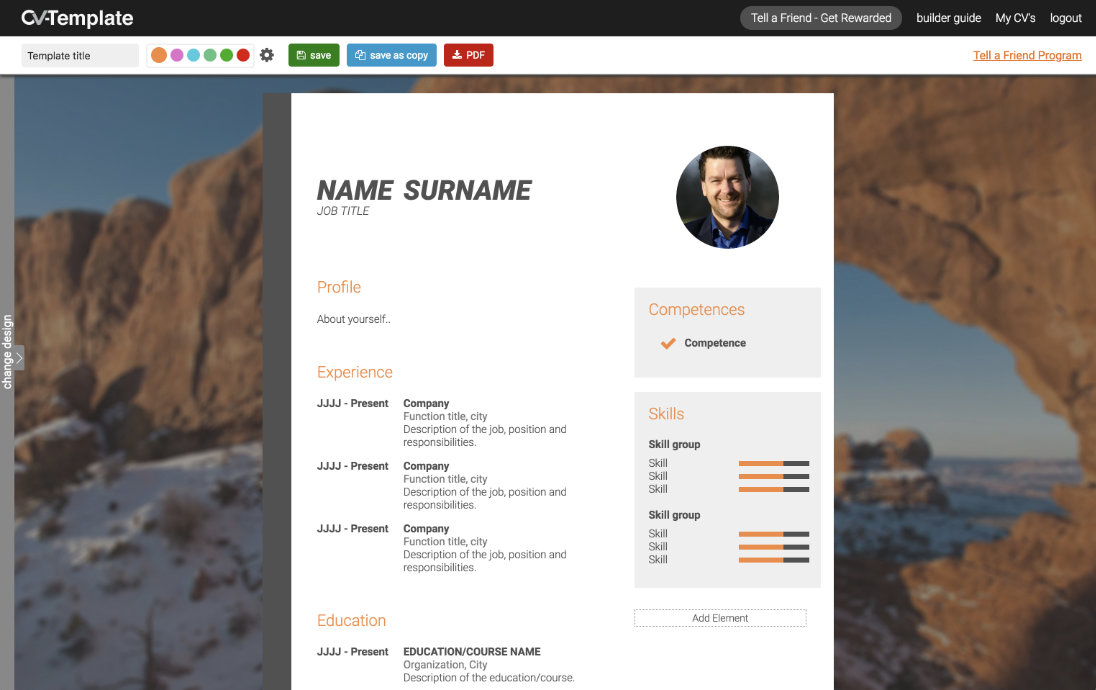 Together with my professional CV templates (free), you will make that first impression and pass this critical phase.
Free Online CV BuilderCheck out my free CV builder now.
The CV templates are optimized for the first impression and it will give your CV a professional look in no-time!
What words should I include on my CV?
Companies hire either to solve a problem or make more profit.
How about using this knowledge in your favour?
Does the company want to make more profit?
They are most interested in 'optimizing', 'improving' or 'building' achievements.
Your job is to SHOW these types of achievements, giving PROOF of your ability claims.
RE-THINK the impact of each CV section.
Have the companies intention in mind all the time. Everything should build your credibility.
Moreover, have an active voice and use action words.
Action words like achieved, improved, created, defined, designed, developed, trained, directed, managed, reduced and produced are the most effective way to start a sentence.
It will keep the sentence short and recruiters love them!
Always keep in mind:
Use the terminology the company is using in their job description. This will get you past the Applicant tracking system (software that is designed to filter out irrelevant CV's).
Write job titles as specific as possible while using industry standard terms.
Come up with hard facts with numbers or percentages, making your achievements measurable (explained in more detail later).
What to leave out of your CV
Yes… action words are highly effective.
But NOT ALL action words…
There are over-used words that you should avoid. They just don't do it anymore.
Being 'flexible', 'motivated' and 'goal driven' are such standard CV clichés.
Did you know that everyone is motivated nowadays?
It just doesn't add value anymore.
Also get rid of vague words. What does 'being flexible' even mean?
It is an empty statement unless explained. SHOW that you are flexible!
Moreover…
Words like 'hard worker', 'team player', 'strategic thinker', 'have excellent communication skills' and 'thinking outside the box' are a definite NO.
Again, what does 'being a hard worker' mean?
These vague words mean nothing and might even give negative assumptions.
"Oh no, here we have another hard worker".
Fair enough… every company wants to hire hard workers.
But you have to SHOW these qualities by giving EVIDENCE.
Are you a team player? Include a social personal interest in your CV!
Without PROOF, they are just empty statements, weakening your position.
Demonstrate specific qualities by showing examples of how you added value to previous jobs.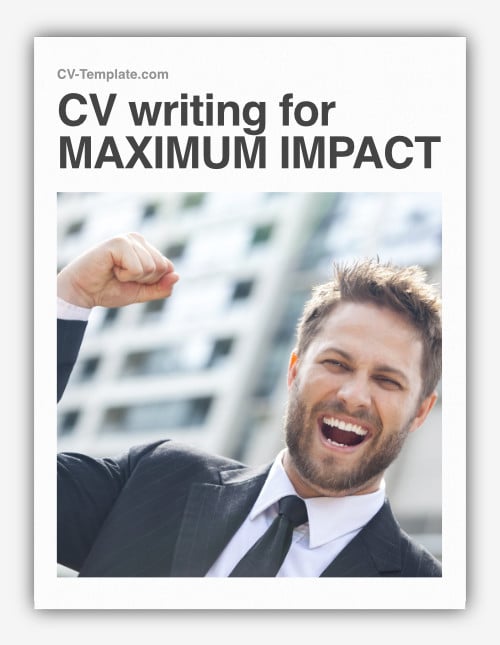 Professional CV in 7 Simple Steps
In-depth strategies. Psychological secrets. Valuable examples.
Learn how to write your CV for MAXIMUM IMPACT!
Let every word earns its place
On average, 50 to 60% of the words on your CV doesn't have to be there.
Okay, your CV will already be far more targeted than most CVs out there. But you still want to make sure that every word EARNS ITS PLACE.
Look closely at every sentence.
Does every word add value?
If not, immediately remove it as it will only have a negative effect.
Either you don't know how to write a CV or you have nothing better to show!
Before sending your optimized CV to the recruiter, go through it one more time. What is the purpose of every element?
What does it communicate right now? What impression does it make?
In other words…
What will the recruiter think after reading it?
Are the keywords he's screening for there?
Is every job description targeted?
Quick CV checklist
How long should my CV be?
A normal CV is around 2-3 pages. A resume is on average 1 page while an academic CV might range from 3 to 15+ pages!
Should I include a picture in my CV?

In Germany, France and most Asian countries; include a professional head-only picture.
In other European countries, it is common to add a picture though it is not required.
In the UK, US, AUS do NOT include a picture of yourself except if you are an actor or a model. The picture is not desirable because of the strict discrimination laws.
What personal information should I include in my CV?

In the UK, US and AUS, the date of birth and marital status should never be included on your CV.
In Europe and Asia, personal information like nationality, gender, marital status and date of birth are common but not required.
Should I include referees?

Traditionally, CVs contained at least 2 referees (especially in the UK).
But… I advise to leave them out if the application doesn't request them.
Don't use the precious CV space for referees. They are NOT relevant before the first interview! (Read 'CV referees' for more information).
What's next…
This article was a bit of a recap to make sure that we are on the same page. There's only one step left before diving into the specific CV sections.
That is if you want to make your CV 3 TIMES more effective…
Making hard achievement statements.
You'll find out what your achievements are, and you will learn how to convert them into POWERFUL STORIES.
Oh, and you HAVE hard achievements… even if you right now do not realize it.
Was the article useful for you?
I am on a mission of helping 1 million people get their Dream Job. Please help me and spread the word by sharing this article with your friends :-)

How to write a CV - Part 7
How to make hard achievement statements
Research shows that achievement-focused CVs are THREE TIMES more likely to pass the first round when compared to a duties-focused CV.

Learn how to increase your chances drastically by stating your hard achievements effectively!
CV Achievements
next lesson