The ultimate CV checklist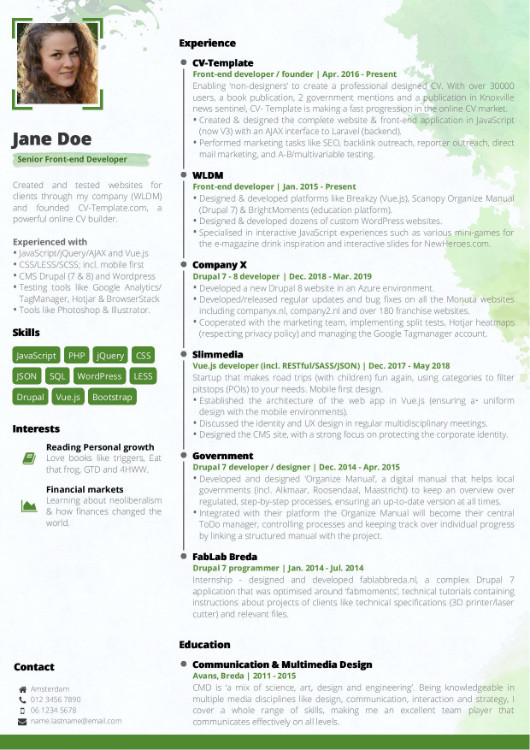 Do you think that the job market is all about qualifications and achievements?
Well… think again!
Today, recruiters spent less than 15 seconds reviewing each CV…
Meaning…
If your CV doesn't impress at first sight, you are gone. Which is great!
Uhh, WHAT?
Yes. With the right knowledge, you'll be able to stand out from your competition fairly easily, optimising your CV for the first impression.
These are the simple principles, my ultimate CV checklist, that could double, triple or even quadruple your chances of success.
Good luck and to your best job yet!
CV Checklist |
The Basics
Even in the basic CV rules, people tend to screw-up easily. You see… almost everybody talks about THEMSELVES in their CV.
About what THEY want… What THEY seek…
You know what? The recruiter does not care. He just wants to find the best applicant for that specific position. It is your job to be that person.
In other words… you need to write your CV from the recruiters' perspective.
That's what these essential CV basics are all about. Implement them… and you will be more than fine!

Employers hire employees for only three reasons
To solve a problem
To make more profit
A combination of both
Recruiters are thinking 'what is the best candidate to solve this problem/capitalise on this opportunity'.
Not 'what does the candidate want in his next job position'.
The recruiter doesn't care that 'you are motivated and ready for a new challenge'. So is everybody else.
You have to be unique: be the solution to his problem!
Write your CV about what the RECRUITER cares about, not about what YOU want to say about yourself…
Do this and you will have plenty of time to talk all about yourself within the job interview!
So… Do you know exactly what the job is about and what problems it solves to the company? Because the recruiter does!
These questions will help you align your cv with the job

Be the Specialist, not the Generalist
Would you rather hire a heart surgeon that is specialised in a complex open-heart operation, or a common doctor when you need a new heart?
I thought so… and so are recruiters:
You have to be the specialist, not the Generalist.
Pick your most important, keystone aspects of why the recruiter should hire you and brand this everywhere in your CV.
In other words… Be the big fish in the small pond: instead of 'a marketing guy', be the 'Psychological email marketing guy'.
Remove everything that doesn't support this specialist branding. Focus only on your top advantages and don't confuse the recruiter.
Don't make endless lists of skills, it only weakens your position. Choose the 5 most important ones to the employer and stick with them.
You want the recruiter to remember you once they have a related problem and need a solution.
You have to be the first expert to pop-up into their head when over-thinking that SPECIFIC problem. These questions will help you get extremely specific.

Use action words to make your CV impressive and remove meaningless statements.
Imagine a recruiter reading his 100th CV of the day…
Every job description is like 'was responsible for…', 'duties included…', 'led…'.
Boring. Boring. Boring!
Be different. Stand out with compact and active sentences like 'Achieved', 'Improved', 'Created', 'Defined', 'trained' or 'Reduced'.
Otherwise, the recruiter will literally think "ahh, here we have another motivated, hard-worker"; and you will be like everybody else.
Completely remove empty statements like 'hard-working', 'motivated', 'being flexible', 'team player' or 'goal driven'.
Instead, intrigue the recruiter with interesting stories and facts; ones that he would love to discuss in the interview! (I'll get to the 'how' in a second).

Forget 'being a team player'. How about 'Successfully completed 12 projects while collaborating in multiple teams'?
Remove 'being flexible' (what does that even mean?). Be specific and state 'Willing to work flexible hours'!
(Here's a full list of the best 186 action words to use within your CV).
You want to make your CV active and interesting? Use CV achievements!

Implement CV Achievements
Achievement-Focused CVs are 3 times more likely to be invited to the job interview. So… don't make an endless list of random duties or responsibilities in job descriptions. Make hard achievements instead!
If you wrote 'Was responsible for the social media', the recruiter knows NOTHING. Maybe you didn't do anything and lost all the followers.
Instead, state a hard achievement like: 'Launched a new social media strategy that grew the followers from 217 to 2655 users'.
Now… that's impressive, right?
Remember to be specific! Use percentages and exact numbers to impress, and make a short story of the achievement using the following format:
Before: There wasn't a product strategy, resulting in an ineffective sales funnel.
Solution: I defined a product strategy.
Result: Increase of 55% in revenue in a one year period.
Putting it all together: Defined a product strategy that made the messy sales funnel more effective, resulting in a 55% increase in revenue in a one year period.
Include a few CV bullets like these and that interview is (almost) guaranteed!
Want more? Read my full guide on hard CV achievements.

The best CV format to use
Well… the best CV format does not exist. If anyone says so… run away… fast! As everyone is in a different situation, your perfect CV format differs slightly.
The correct answer to your best CV format would be: It depends!
Forget the classic CV formats; they are almost never a 100% fit (and are not optimised for the first impression).
That's why I invented these optimised CV formats:
(All CV formats are available in every CV template in my builder!).
So… How can you choose YOUR best CV format? It's simple:
Do you have impressive achievements? Go for the performance-based CV format.
Do you have a specific skill set? Pick the skill-based CV format.
Are you working with people or is your personality/motivation important? Choose the personal-based CV format.
How to use this format to make your best possible first impression?
Use the CV sidebar cleverly!
Highlight in the sidebar your greatest added value to the company and use a format-specific introduction to start your CV within the right context and you're set. Use the examples below to discover your CV format in-depth.
Download explanatory CV format examples or read the full CV format article.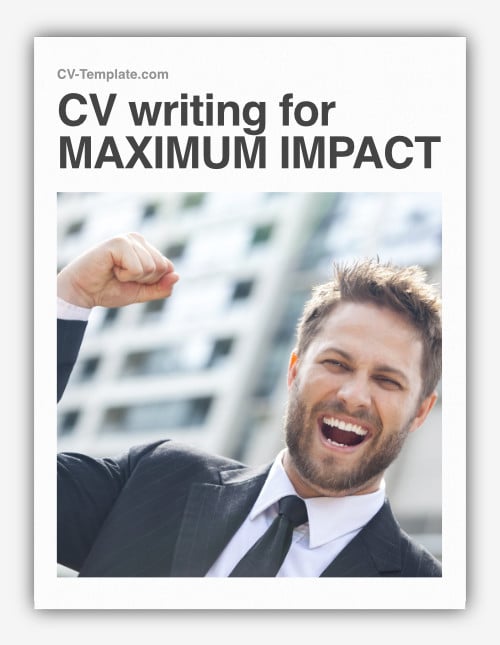 Professional CV in 7 Simple Steps
In-depth strategies. Psychological secrets. Valuable examples.
Learn how to write your CV for MAXIMUM IMPACT!
CV Checklist |
Element Specifics
Now that we have gone through the CV basics, let's have a look at CV sections specifically. Remember the basic rule: everything in your CV must add value.
Everything should earn its place AND reinforce the aspects you want the recruiter to remember you for.

The most important section: Your CV Summary.
Your CV summary is by far the most important section of your CV…
And people mess this section up all the time!
It is the context-setting start of your CV - allowing you to focus on the things you WANT the recruiter to focus on! It's simple psychology!
Are you experienced?
Focus on your achievements and show that you are an expert in the field. The recruiter will seek for more achievements within your CV to confirm this image of yours automatically!
Do you possess all the right skills?
Focus in-depth on the most useful ones and you will be perceived as a solid professional. State lots of examples!
Is your personality a perfect fit?
Explain why! The recruiter will match your personality with the job and will focus less on your work history.
In other words… An effective summary is NOT about what you want but about what you have to OFFER.
Start the summary with a two-line sentence, this is a psychological benefit that makes it easier to start reading (avoid large text blocks at all times; make your CV visually pleasing).
Don't make this introduction longer than 1/3 - 1/2 of the page.
Highlight your greatest added value to the company in bullets, making the recruiter dream about what you could do for them!
I have extensive examples ready of great CV summaries (depending on the CV format (experience-based, skill-based, personality-based). Read 'Writing a Powerful CV Summary' for fitting examples in your situation.

Your ideal job title
Most people make job titles too general or they try to be funny.
Please don't call yourself 'Director of first impressions' when you are referring to a 'receptionist' function.
Sure, the recruiter may have a laugh, but then you're gone and the recruiter will move on to the next CV.
Be as specific as possible but use industry-standard terminology.
Try to make the general 'marketing professional' specific and targeted towards the desired function, like 'Email marketing specialist'.
Did you do an intern? Provide value instead of stating 'intern'; make it 'Technology consultant intern' or 'Graphic design intern', always think about the impression you want to make!

Your ideal work experience description
Writing an effective work description is about starting with a CV action word (keeping the sentence active and compact) and align the relevant tasks, knowledge and skills of the experience towards the desired job, showing evidence of your capability.
Avoid empty responsibilities or duties. Focus on hard achievements instead.
Figure out at least one hard achievement and 3 other relevant items (tasks/knowledge/skills)
Write it like 'Hard achievement (sentence), relevant item 1, 2 and 3'.
For example: Increased online conversion with 25%, managed multiple project teams, was responsible for the email marketing and content strategy.
Want to go all in? Learn to write your work experience for maximum impact.

Your education is all about providing PROOF of your knowledge
This is a hidden gem… just highlight relevant courses within the description!
Really… Nobody does it!
It is a simple and highly effective strategy to immediately SHOW that you possess the right knowledge…
You might think 'but everyone did those courses; that's not special'.
So what?
The recruiter doesn't know, AND as you have listed them, you will be a SAFE CHOICE. Your CV is always about making yourself a safe choice to the recruiter.
Just align relevant courses/projects or motivation of the study and choose the 3 most supportive ones.
Oh, and don't state vague course titles like 'applied biology'; make sure to use industry-standard terminology.
For example: 'Wanted to make a real difference in third world countries. Relevant coursework included: criminal defence strategies, defending in court and convincing storytelling'.
(Only state your motivation when it is aligned with the mission of the company).
For more examples, read the full guide on the CV education section.

How to deal with (hard) skills in your CV
Skills are a great way to highlight your direct value to the company. However, it is important to choose the right CV skills.
Find these key skills within the job qualifications section of the job description and copy the terminology the employer is using
Also, ask a person in the desired position what skills he/she possesses; Use the ones that are NOT listed to stand out from your competition!
Pick just the relevant few and focus on them (remember; be the specialist, not the generalist!).
Use eye-catching skill-indicators in my CV builder to get - and keep - the recruiters' attention.
Using 4 required skills (80%) and 1 skill (20%) you think is important (but not written within the job description) happens to be the best ratio of 'written to the job while staying realistic'.

Use soft skills cleverly
Soft skills are social skills that are linked to your emotional intelligence (like being a 'good communicator' or 'leader').
The thing about hard skills is that they are perceived instantly as trustworthy. Soft skills are a little harder - as they are empty statements without proof.
The trick is to state them with examples (provide evidence) or include them in hard achievements.
Never ever state a soft skill on its own like 'I'm a great project leader'. Instead, describe 'Within my study, I learned to communicate effectively between all the different fields, making me a good project leader'.
Click here for the full guide regarding CV skills, strengths and competences.

Promote yourself shamelessly… using clever hobbies
Another hidden gem! What if I told you that there is a way of shamelessly promoting yourself… without sounding to do so?
You see… using your personal interest cleverly allows you to state 'proof' of required soft skills. It's easy;
Does the job require you to be social? Include a social interest.
Do you have to solve problems? Include a problem-solving interest.
Is the company a non-profit? Add voluntary work and show that you are one of them!
Some examples of clever hobbies are…
Individual sports: You are fit, disciplined and passionate
Team sports: You are a team player
Puzzles: You are a problem-solving analytical thinker
Social hobbies/interests: You communicate well with others
Of course, there are other small things you could do (read the full CV course if you'd like), but those are the ones that are most important.
There is only one thing left to do…
Let every word earn its place
It's simple; 50-60% of the words on your CV doesn't have to be there. They are just taking valuable space.
Look closely at every sentence; does every word add value? If not, immediately remove it! It will only have a negative effect…
Either you don't know how to write a CV or you have nothing better to show! (Now, we don't want that… right?).
While your CV writing is far more important, a great CV design helps to stand out from the rest and make a better first impression.
It amazes me that everyone wants their dream job but then refuses to prepare themselves properly for success.
It's like training to run a marathon for years and then starting on an old pair of shoes… destroying your chances of reaching the finish line before even starting.
With over 100 candidates applying for every job offer, recruiters simply don't have the time to read your CV anymore.
If your CV does not impress within 20 seconds, you are gone.
Get a CV that impresses at first glance!
Standing out with your CV… to the next level.
Be instantly Business... Creative... or Elegant. 'Wow' the recruiter immediately.
Pick your free or premium CV template (if you're serious) and get that job.
With my CV builder (that is DESIGNED for this work), your CV writing will be painless. No more struggle; just follow the proven CV format.
With only one chance of a first impression, you actually cannot afford to NOT be your absolute best!
Choose your best CV template now
P.S.
Liked this article? Please share this article with the world, helping me with my mission of helping 1.000.000 people get a job they like!

Free CV Course
CV Writing for Maximum Impact
Are you struggling with 'how should my CV look like' and 'what should I say about myself'? Have you spend hours of time making your CV look decent... but is it still not working?
With this free CV course, I'm going to help you to get that job.
"I have read a couple of books on CV writing and read a lot of articles on the internet but this is the only course which is kind of a practical DIY toolkit." - Manish Gupta, Helsinki
Free CV Course
More CV Tips