Advantages of an Online CV Builder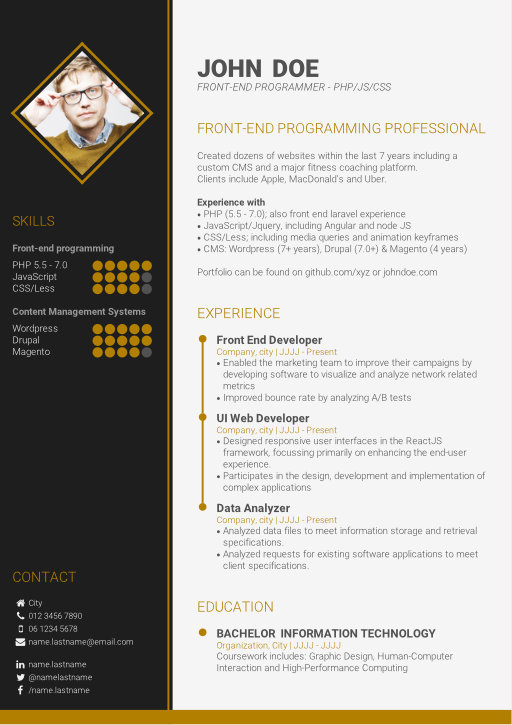 Most online CV Builders suck.
Why?
Because they focus solely on design.
Yes, you might be able to create a good, well-designed CV…
But it does not matter.
If the content is crap, the 'beautiful CV design' is USELESS.
Now, don't get me wrong…
Online CV builders DO have advantages.
And I will tell you exactly WHY and HOW you should use them.
It's just… no CV builder out there uses it's potential.
I mean… how about using your CV design strategically, giving you a psychological advantage?
With some simple CV strategies, you can turn this knowledge into your favour, transforming the current recruitment system into a powerful asset…
How? I'll come to that.
But your first impression is more important than ever…
The BIG benefits of using a CV Builder
From avoiding common CV mistakes like inconsistencies or forgetting important data… Here's why you should consider using an online CV Builder!
Keeping your CV up-to-date.
My advice? Create one major CV describing all your experiences in full detail. Duplicate this comprehensive CV every time you apply for a new position and remove everything that is not relevant. With a CV dashboard, it is easy to keep track of your CV versions and to update them when needed.
Making your CV consistent and well-structured.
Are you struggling for hours and hours but does your CV still look crap? A CV Builder ensures that your information is well-structured and displayed in a consistent manner. Recruiters don't like to search for relevant information. Everything should be clear immediately.
A CV Builder helps to focus on important content.
Let's say you want to highlight your skills in your CV. How can you possibly do this WITHOUT a CV sidebar? I mean… are you going to list your skills one by one and waste all those space? And are you sure you are not forgetting something important? A GOOD CV builder will make sure you follow essential guidelines and thus prevent important information from going unnoticed.
Easy to use.
You don't have to start from scratch. Everything has already been designed and tested by thousands and thousands of people. Just follow the CV format and you are done. It is that easy. Just… please follow my advice to learn first HOW to write a good CV. Allow yourself to get a better job faster!
No additional software or updates that break everything.
I have seen this so many times… having almost the perfect CV template… and then you change something and everything collapses. Or what about a new version of Word that accidentally breaks the whole template… That's where online CV builders have a big advantage. They are OPTIMISED for creating CVs. The problems have already been tackled. It is worry-free plug-and-play.
Information accessible 24/7.
Imagine you are on a road trip and get a once in your lifetime tip from one of your ex-colleagues. What to do? With an online CV builder, the only thing you need is a mobile phone and an internet connection and you can update your CV, download it and send it off. It is the ultimate flexibility.
Save time… a lot.
Now don't get me wrong. Preparing a GREAT CV is not like filling up a form that can be done within minutes. It is possible… but that CV won't get you anywhere. However, using a CV template will make sure your CV has a professional look in minutes. Follow the proven format or change the complete appearance with just one click… it will save you hours of struggle.
Some more advantages with my free online CV builder…
While above advantages apply for almost all CV builders out there, there are some great additional benefits when using my free CV builder.
Optimizing your CV for the current industry.
The classic CV formats are dead. What worked in the past is useless today. The digital age made sure of that. Today, recruiters don't read your CV. They SCAN for only 20 seconds. Your CV needs to be scannable and clear within 20 seconds or you're done. Use my CV builder and your CV will be optimized for the current recruitment industry.
Being ULTRA flexible…
Do you want your CV to show your personality? Recruiters LOVE that. My advanced CV builder is easily customizable. Don't like a CV element? Just change the element appearance. Prefer another colour? Consider it done with one click. Need another layout? Drag the elements and be done with it. You will have total control over the looks of your CV. Even switching CV designs (while keeping the information) is easy.
Eye-tracking tested layouts.
More than 35.000 registered users created 270.000 CVs using my CV builder. Meaning… you've got a free, fully tested system to take advantage of. All CV templates are analysed and optimised using eye-tracking algorithms to ensure the right focus. Use years of experience to accelerate your job search!
No need for any design skills!
Creating a professional-looking CV can be an awful lot of work. But that doesn't mean that you can't have a professionally designed, stand out CV! Forget learning about graphic design. Leverage my CV expertise. Choose your CV template, follow the format and you have a great-looking CV in no time.
Beautiful eye-catching timelines.
The problem with word templates? They almost always break when trying to edit or change them. Do you need an extra page? You are done. And it is almost impossible to support all the different software versions. That's why I decided to go for an online CV Builder… that is DESIGNED for this job. The big advantage? Beautiful elements like timelines, image masks, sidebars and icons. Give yourself that premium 'wow' look!
No endless search for 'the best CV format'.
Search online and you will notice all those crappy sites giving the same tips over and over again. There is NOT a single best CV format. Everyone is in a different situation and needs a different format. Take the free test and find out about your ideal format. Save yourself the confusion.
But there is one more MAJOR advantage of my CV builder…
Optimise your CV Template for your BEST first impression.
The digital age changed the whole recruitment industry. Meaning… recruiters don't read your CV anymore. They SCAN for 20 seconds.
How about using that knowledge in your favour?
The psychological advantage of using a CV sidebar.
Most of my CV templates contain a sidebar. That is not a coincidence. Highlighting your greatest added value to the company in this sidebar and you are set. During the first 3-5 seconds, the sidebar (your greatest benefit) will attract the attention of the recruiter, setting the context of your CV.
You can literally DESIGN how the recruiter will look at your CV.
Your targeted CV summary is to back those expectations up.
Download these CV examples and you will understand how this context-setting start works. It is my #1 secret… and NOBODY IS USING IT!
Do you like these psychological tactics? My free CV course is packed with them. It is one of the best time investments you can make.
Try my free CV Builder.
This CV builder will make sure you are getting noticed. While everybody is struggling, a small percentage is able to literally choose the job of their liking. Read the CV course and become part of this group. It is totally free!
If you are an experienced professional, choose the grey-blue one, or the completely white one with the grey rectangle titles. They are the most clean-looking templates.
If you possess a specific skill set, any template is good.
If you want to emphasize your personality, go for the black sidebar or the green sidebar. They have a more friendly appearance.

Free CV Course
CV Writing for Maximum Impact
Are you struggling with 'how should my CV look like' and 'what should I say about myself'? Have you spend hours of time making your CV look decent... but is it still not working?
With this free CV course, I'm going to help you to get that job.
"I have read a couple of books on CV writing and read a lot of articles on the internet but this is the only course which is kind of a practical DIY toolkit." - Manish Gupta, Helsinki
Free CV Course
More CV Tips