How to choose your ideal CV template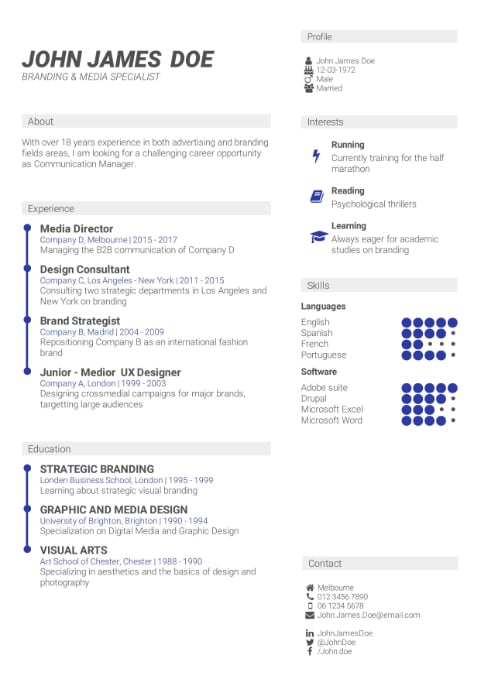 So you want your ideal CV template…
… but have no idea what you should keep in mind when choosing?
Well… Don't worry!
As this question appears in my inbox regularly, I decided to dedicate this full CV tip to the issue.
And you know what?
This question is a legit one…
Because there simply is no general, single answer to 'What is my ideal CV template'.
It all depends on your unique situation… Where you are in your career… What have you done… and most importantly… What you are going to do next!
What you should ask yourself first is…
What qualities of mine are most important to my next employer?
In other words… do you want to impress your future employer immediately with your skills… your experience… or is it all about your great personality?
And… is the CV template able to communicate those qualities?
In this article, I will provide answers to all these factors… so you can pick your best CV template yourself.
But there is one IMPORTANT FACTOR I would like to demonstrate first…
And that is how content is - and will always be - KING.
CV Template or no CV Template… Content is KING
Yes, CV templates can give you that professional look instantly… and yes, there are big advantages to CV templates.
But you should always keep in mind… ultimately, it is the content that counts.
A good CV design helps standing out from your competition and sets the right context immediately (I'll explain in a minute), and yeah, since recruiters only scan your CV in the first round, it is a MUST to grab that initial attention.
However, WHAT you say is way more important than just filling a nice-looking CV template aimlessly.
Most people pick a good-looking CV template and, as they hate CV writing, rush the content phase…
… HOPING that an employer will respond to their GENERIC CV.
They set themselves up for FAILURE at the start…
Which is a great opportunity for you!
If you want your job search to be successful, you need to do the opposite.
You have to reverse your mindset and think from the recruiters' perspective.
When the recruiter starts reading your CV, what does it communicate?
Is it all about You?
About what YOU want, what YOU are proud of…
…or have you written your CV around the aspects the recruiter will be interested in? About what he NEEDS.
Care only about what your future employers NEED to make a good, informed decision about your suitability.
Are you proud of that achievement that has nothing to do with the job?
Or even worse… is it WEAKENING your CV branding by diverging the focus away from your core selling point?
Remove it immediately!
Focus solely on the few most important aspects that your CV needs to communicate effectively to get you that job interview.
What skills/achievements/personality traits makes you an interesting candidate for THEM?
And how can you brand yourself so that you will be the ideal candidate?
In other words… what about YOU is important TO THE EMPLOYER?
And then… and only then… pick a CV template that supports this branding while remaining focused on the content.
(I am probably the only CV builder out there that gives this honest advice: having a professional CV template helps, but only when the written content is great).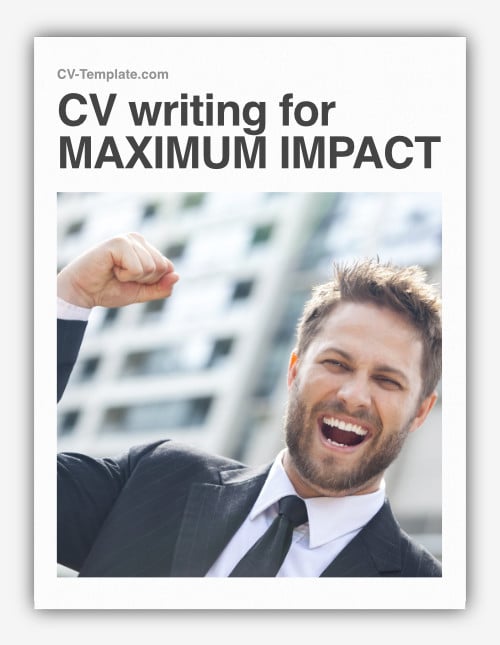 Professional CV in 7 Simple Steps
In-depth strategies. Psychological secrets. Valuable examples.
Learn how to write your CV for MAXIMUM IMPACT!
Personal branding in CV Templates
Before choosing a CV template, you should have crystal clear WHAT you want to communicate.
That means knowing what you should write… but also not to leave out!
The employer is hiring because of a specific problem. The sole purpose of your CV is to present yourself as the solution to that problem.
Just by highlighting the right aspects and omitting everything else you can position yourself as the ideal candidate.
And then, in the job interview, you can 'wow' the employer even further with everything else you can do.
Do you have no idea what to highlight in your CV?
My free CV test will automatically generate a personalised CV blueprint, showing exactly HOW to write your CV step-by-step.
The first impression is so critical that I created an optimised CV format, enabling you to impress the recruiter immediately with your greatest added value to the company.
Let me explain exactly how it works…
Your Optimal CV Template Format
Do you think you could benefit from having an optimal first impression? Because that is exactly where my CV builder excels.
Not only that…
With my CV builder, you can determine what the recruiter will focus on in the rest of your CV… just by DESIGNING your first impression effectively!
Sounds interesting?
It's not hard… You just have to do things differently!
The time where you could list every single work experience you have ever had in full detail is gone.
Your CV isn't your biography anymore… at least it shouldn't be.
With the digital age, sending your CV is as easy as copy and paste… which is why everybody is doing that. Recruiters are being flooded with digital CVs!
Meaning… Recruiters don't read your CV in the first selection anymore.
They just scan it for 20 seconds.
You need a standout CV that is scannable, grabbing the attention immediately and impressing with the right, relevant aspects of the company.
That is exactly why most of my CV templates contain a sidebar…
The psychology behind an effective CV
So you want to know this secret? It's easy. Highlight your greatest added value to the company in this sidebar and you are set.
During the first 3-5 seconds, this sidebar will attract the attention of the recruiter, setting the context of your CV immediately.
You can literally DESIGN how the recruiter will look at the rest of your CV.
Within the CV sidebar…
Highlight a specific, targeted skill set and you will be perceived as the expert in that area. The recruiter will unconsciously try to seek confirmation of your skills in the rest of your CV.
Highlight impressive achievements together with an extensive work history and you are 'the experienced professional'. The recruiter unconsciously looks for more reasons why you are experienced (seeking confirmation of the 'experienced' statement).
Highlight your personal interests or motivation and you will prove that you possess the desired personality traits. The recruiter will start matching the rest of your CV with your presented character, looking for confirmation of those traits.
Are you the experienced professional? The skilled specialist? Or a people person that wants to make an impact in other people's lives?
With this sidebar strategy, you can literally choose your first impression - one that is aligned with what qualities the employer is asking for.
The rest of your CV is simply to back those expectations up, showing EVIDENCE of these capabilities!
Let me demonstrate the effect of the different formats using the same (free) CV template. Do you notice the differences in power and focus?
CV Template Experienced Professional
Are you already ahead in your career and do you have a list of achieved results? Then the experienced professional CV format is for you.
The CV format is easy
Highlight your hard achievements in the sidebar, impressing the recruiter immediately with your experience and fit.
Focus on your massive experience and achievements in your targeted CV summary. Add, when possible, some social proof.
Read 'What's my best CV format' to learn why this format works so well.
CV Template for the Skilled Specialist
Use this CV format when you are in the possession of a special skill set that can benefit your future employer.
This CV format focuses on skills and competences rather than your career path. It is an ideal CV format to prove that you are suitable to do the job without having a perfect work history.
For this format, highlight your key skills or competences in the sidebar, impressing the recruiter immediately with your skill set.
When lacking a desired skill, use competences to prove your ability (Not having the 'PHP programming skill', but having the general 'logical thinker' competence). Read 'Strengths vs Skills vs Competences'.
In the CV summary, highlight your key skills in-depth (be detailed and precise) and try to add some social proof.
Read 'What's my best CV format' for more information about the different CV formats and why it works so well.
A CV Template that shows Personality
Use this personal-based CV format when you are working with people or when your personality is important for the job.
This CV format focusses more on your personal values, motivation and competences rather than (hard) achievements.
Highlight your (targeted) personal interests or personal values in the sidebar. Use them cunningly to show that you are 'one of them', making yourself a good fit for the team.
Focus on your values and motivation in the CV introduction, connecting to the company's goals on an emotional level.
Align yourself with the values or mission of the company, relating to the company's goals, and thus proving your fit on a personal level.
Read 'What's my best CV format' to learn why this format works so well.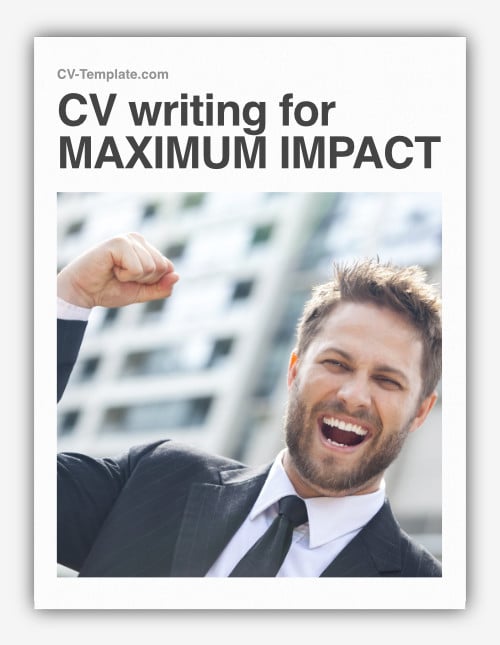 Professional CV in 7 Simple Steps
In-depth strategies. Psychological secrets. Valuable examples.
Learn how to write your CV for MAXIMUM IMPACT!
What does your ideal CV template look like?
Now that you know the importance of your content within the template, let's dive into the fun part: the appearance of your CV template.
Do you want your CV to be personal and characteristic or is a professional, premium look a better way to go?
Let me highlight some CV templates - depending on your CV format - where you can't go wrong!
Are you an experienced professional?
Express some personality within your CV but keep your template business.
The grey-blue CV template or the white-with-grey-titles CV template are ideal options for you.
Highlight your achievements in the sidebar to showcase your extensive experience immediately.
Do you possess a skill set that can benefit your future employer?
A clean-looking CV template, with options to highlight your skills, is what you need. Definitely use a sidebar as it is practically impossible to highlight your skills in a single column template without it looking like a mess.
The orange-grey CV template or the grey-blue CV template are ideal options. Download the CV examples to understand the power of this CV format.
Need a characteristic, personal CV?
Are you looking for a job where your personality is important? Get a characteristic CV template that shows your personality immediately!
This personal touch is essential as recruiters know exactly what kind of person is ideal for the job. Meaning they WILL judge you on those character traits…
Make sure to tick those checkboxes by giving your CV that personal touch, explaining WHY you want to help people!
Go for a CV template that is characteristic and visually appealing. The black-gold CV template or the orange (or green) sidebar CV template are particularly suitable. Your CV template should showcase your character as much as possible!
Why you should use my CV builder
It's simple. Do you want a CV that is optimised for the first impression?
Do you want to give yourself a professional look… without the struggle of working in an editor that is simply not optimised for CV making?
How about working directly in the CV template instead? Overseeing the end result at all times (instead of filling all kinds of forms first).
Every CV template in my CV Builder supports these 3 different formats, enabling your optimal first impression.
Moreover, the templates are super-flexible, meaning that you can change everything to your liking. With CV-Template, you can focus immediately on the fun part: your CVs appearance. Think beautiful timelines, skill indicators, CV sidebars and image masks…
Oh… and did I tell you that it is free? You don't need an account until saving. Just click the button below and start exploring immediately :-)
My tip? Use CV-Template as your online CV manager.
Create one base CV. Include everything you got and simply duplicate the base CV for every job offer. Remove irrelevant items and you will have a new, optimised CV in a few minutes.
Together with your optimised CV format, your chances will rise significantly!
What to do next
Have you no idea which CV format is for you? Take the free CV test, answer the 7 questions and follow the report.
Do you know exactly what your optimal CV format is? Go to the CV course, read at least "What is my best CV format" (explaining exactly what to do) and "Write a Powerful CV Summary" (based on your CV format).
Play it safe and go for one of the 3 suggested options from this article. Choose your favourite CV template and try them in the builder.
Switch between CV designs easily by using the 'switch design' bar at the left side of your screen - you don't have to start from scratch when trying another CV template.
When satisfied, create a free account and download your CV.
Good job hunting!
More CV Tips